American-Jamaican violist Jordan Bak will join the music faculty at Bowling Green State University as assistant professor of viola.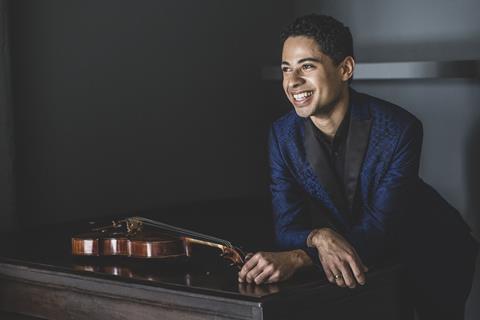 'Absolutely ecstatic to announce my appointment as assistant professor of viola at Bowling Green State University College of Musical Arts!' said Bak on social media. 'I'm incredibly thrilled to join a community of dedicated and diverse faculty, new music advocacy, and of course, the opportunity to foster, uplift and challenge the current and next generation of brilliant young minds. I'm really looking forward to this next chapter in Ohio.'
A native of New York, Bak holds a bachelors degree with academic honours from New England Conservatory and a masters and artist diploma from the Juilliard School, where he was awarded the Kovner Fellowship. Bak has studied with violists Hsin-Yun Huang, Dimitri Murrath and Samuel Rhodes, and has additionally played in masterclasses for Atar Arad, Gerard Caussé, Isabel Charisius, Kirsten Docter, Veit Hertenstein, Nobuko Imai, Cynthia Phelps, Steven Tenenbom, and Tabea Zimmermann.
As an educator, Bak has served on the faculty of Opportunity Music Project in New York and served as Teaching Assistant for The Juilliard School ACHT Viola Studio.
Bak is a 2021 YCAT Robey Artist and a top laureate of the 2020 Sphinx Competition, as well as grand prize winner and audience prize recipient of the 2019 Concert Artists Guild Victor Elmaleh Competition, the recipient of the 2019 Samuel Sanders Tel Aviv Museum Prize and the 2019 John White Special Prize from the Tertis International Viola Competition
He has appeared at festivals such as Marlboro Music Festival, Verbier Festival Academy, Juilliard ChamberFest, Taos School of Music, Encore Chamber Music, Four Seasons Winter Workshop and Lac Léman Music Masterclasses. Bak has collaborated and performed with ensembles including Verona Quartet and Merz Trio, and such artists as Jonathan Biss, Lara Downes, Ani Kavafian, Keith Lockhart, Charles Neidich and Marina Piccinini.
Bak released his debut album Impulse in May 2022. He plays on a 2016 viola by Jon van Kouwenhoven.