With her husband, conductor Gustav Leonhardt, the Baroque violinist was active in the pioneering Dutch early music scene of the 1950s and 60s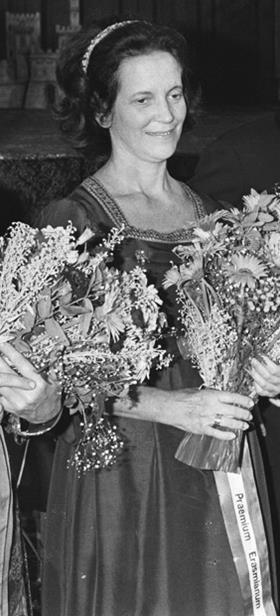 Swiss–Dutch violinist Marie Leonhardt died on 25 July at the age of 93. One of the pioneers of historical performance practice, she was concertmaster of the Leonhardt Consort, founded by her husband Gustav Leonhardt in 1955.
Born Marie Amsler in 1928 in Lausanne, Switzerland, she studied violin with Michel Schwalbé at the Geneva Music Conservatoire. She then moved to Basel to study for a year with Walter Kägi at the Schola Cantorum Basiliensis. During this time she lived in an apartment at the house of cellist August Wenzinger, a friend of the family with an interest in historical performance. It was also in Basel that she met Gustav Leonhardt. She also received lessons with Max Rostal in London before moving to Vienna, where she met Nikolaus and Alice Harnoncourt. The Leonhardts married in 1953, the same year as the Harnoncourts.
The Leonhardt Consort was founded two years later in Amsterdam, where Marie had taken a teaching position at the Conservatorium. The small group of players became a hotbed of early music talent, attracting the attention of such names as Frans Brüggen, Ton Koopman and Sigiswald Kuijken. In 1969 she joined Koopman's newly founded ensemble Musica Antiqua Amsterdam, where she played first violin.
From 1965 Marie was head of the Conservatorium's Baroque violin class, where her students included Reinhard Goebel, Lucy van Dael and Alda Stuurop. She held masterclasses worldwide and for a while also taught in the early music department at the Geneva Conservatory. She co-founded the Ensemble Baroque de Mateus, a collective of young musicians including Florian Deuter, Andrew Manze and Richard Egarr, which performed at early music festivals across Europe. In 2000 she was named honorary president of the St Petersburg Early Music Festival. She played a violin made by Jacob Stainer in 1676.
Listen to the Leonhardt Consort perform Bach's Concerto BWV1044 with soloists Frans Brüggen (flute), Marie Leonhardt (violin) and Gustav Leonhardt (harpsichord)