In the orchestra's first major intake post-pandemic, the new recruitments include associate concertmaster and assistant principal bass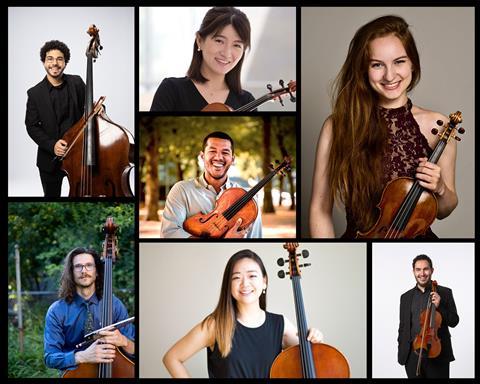 Read more news articles here
The Cincinnati Symphony Orchestra (CSO) has welcomed eight new string players into its ranks to start this coming 2022-23 season.
After extensive, national auditions the orchestra has offered tenure-track positions to Felicity James, associate concertmaster; Stephen Jones, assistant principal bass; Dan Wang, and Gabriel Napoli, viola; Daniel Kaler, cello; and Luis Arturo Celis Avila, double bass.
The orchestra has also offered one-year positions to Emilio Carlo, viola and Isabel Kwon, cello.
'Each of these musicians won highly competitive auditions, joining the ranks of the exceptional players who make up the CSO,' president and CEO of the CSO Jonathan Martin said. 'As we emerge from the onset of the pandemic which halted our auditions for more than a year, this is one strong indicator signalling our return to pre-pandemic level of activity.'
Felicity James, the orchestra's new associate concertmaster, has previously served as associate concertmaster of the Minnesota Orchestra since 2018, as well as concertmaster of the Verbier Festival Orchestra, the Colburn Orchestra, and the Aspen Philharmonic Orchestra. A graduate of the Colburn Conservatory of Music, James has played as a guest musician with The Cleveland Orchestra, the Seattle Symphony, and the Los Angeles Chamber Orchestra.
Assistant pricipal bass Stephen Jones has recently graduated from his masters at the University of Cincinnati College-Conservatory of Music. During his studies he worked with James VanDemark, Leigh Mesh and Owen Lee. Joining Jones in the section, Luis Arturo Celis Avila, who also studied with Owen Lee, played with the CSO during his time on the Cincinnati Symphony Orchestra/University of Cincinnati College-Conservatory of Music Diversity Fellowship Programme.
'Being a part of choosing the next musicians for the CSO is equally humbling and inspiring,' said CSO's music director Louis Langrée. 'Playing in this orchestra attracts musicians of the highest calibre from around the globe, which makes choosing the right musician very challenging. We are thrilled to welcome ten new artists to the orchestra, each of whom will add their talent to the CSO and the Cincinnati community.'
This season will see the orchestra perform at a pre-pandemic level, with 91 performances scheduled between both the CSO and its Pops orchestra. Both orchestras will present free digital livestreams of select performances throughout the season, as part of a continuing commitment to providing broad access to concerts to viewers in Cincinnati and around the globe.
Season highlights include Mahler's Symphony No. 2 Resurrection, with Langrée leading the CSO and the May Festival Chorus, joined by mezzo-soprano Kelley O'Connor and soprano Joélle Harvey, in the orchestra's largest production since its 125th anniversary season.