The Swiss musician, who has died aged 93, premiered concertos by Bartók and Frank Martin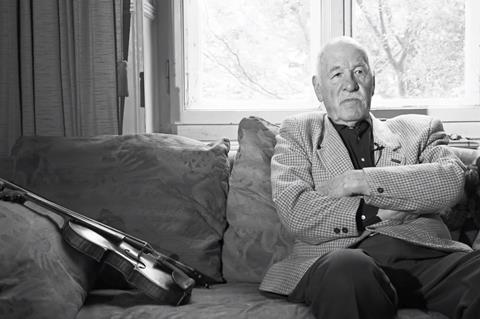 Hansheinz Schneeberger was born in Bern in 1926. Following early promise as a violinist, he entered the city's conservatoire studying with Walter Kägi before graduating with a full diploma while still 17.
Unable to go abroad to continue his studies during the war, he pounced on the chance of attending a masterclass with Carl Flesch in Lucerne. Flesch took him on as a student but died just six months later, though Schneeberger remembered that period as crucial in advancing his technique.
After the borders reopened, he went to Paris and studied with Boris Kamensky, a pupil of Ysaÿe, Auer and Joachim. Following this he accepted a teaching job in Switzerland and began to make a reputation as a soloist, most notably being asked to premiere Swiss composer Frank Martin's violin concerto in 1952.
In 1958 he was asked to premiere Bartók's lost concerto (now named his Violin Concerto no.1) 50 years after its composition. It had been dedicated to the Hungarian violinist Stefi Geyer, with whom Bartók was in love, and she refused to play it. It remained unperformed until after her death.
His reputation rising, Schneeberger was invited to audition for the position of concertmaster at the NDR Symphony Orchestra in Hamburg in 1958. He got the job but found himself temperamentally unsuited to the pace of life in a full-time orchestra, and remained for just three years.
'I was not completely happy there,' he remembered in recent interview. 'I had been so free before, I could decide how to spend my time, and suddenly there were fixed rules.'
He leapt at the offer of a class at the Basel conservatoire and taught there for 30 years until his retirement, and remained in the city for the rest of his life. As well as making a number of recordings, he was active as a soloist and chamber musician throughout his life. He maintained a core repertoire of his favourite works right to the end, occasionally performing in public into his 90s.