Violinist Hansheinz Schneeberger was known for premiering Bartók's Violin Concerto No.1. Here, Dmitry Smirnov writes about uncovering the late violinist's solo violin sonata while sorting through Schneeberger's personal archives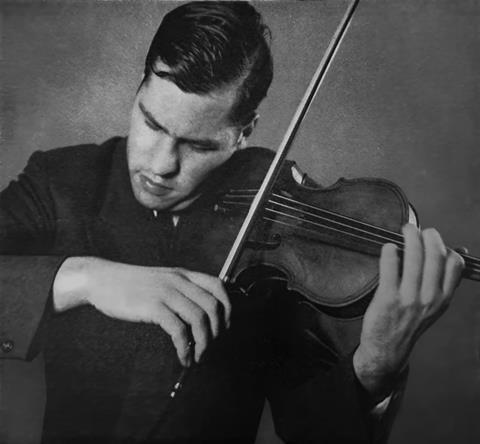 On 24 January 1952, the 26-year-old Hansheinz Schneeberger (1926–2019) was delighted to perform the world première of Frank Martin's (1890–1974) Violin Concerto in Basel. He was in good company that day: Paul Sacher conducting with the composer in the audience. Martin's work for choir Cinqs Chansons d'Ariel, after Shakespeare's The Tempest, was written immediately before the Violin Concerto and left a similar 'mysterious and slightly elfin' imprint on the concerto. Another important world première given by Schneeberger was Bela Bartók's (1882–1945) Violin Concerto No. 1, Sz. 36, a piece that had some traces of a different love story than on Prospero's island – it was composed five years later in 1908 but was rejected by Bartók's love, violinist Stefi Geyer to whom the piece was dedicated, the work was thus neglected for many years.
Schneeberger was not only a young prodigious and ambitious talent but also a 'pioneer' of such works as described above. Ambitious in an old fashion way, fully devoted to music and became a highly influential musician. Schneeberger has left a strong legacy, determined through his path as a true cosmopolitan and great violinist.
Trained at the Bern Conservatory during the Second World War, Schneeberger became a leading Swiss violinist and remained a recognised and active performer until his death in 2019. However, it's not so widely known that he was also an excellent composer. Schneerberger's first composition is dated 1935 – not long after, at the suggestion of Adolf Busch, he would take up composition more seriously.
Following Schneeberger's death, it was discovered that he had a wide polarity of interests in other art forms. Within the violinist's personal archive there are many rarities which were only discovered in the fall of 2020, a year after his passing. I was honoured to be among other musicians who helped the Schneeberger family sort out the studio where he worked. The archive includes a number of his own paintings, letters of correspondences, rare photos and postcards but most importantly his own musical compositions, studies and completed symphonic orchestral arrangements of piano works by Bartók, Brahms and Albéniz. These are all at the present moment being catalogued and digitised for further public access.
In December 2020, I discovered within the Schneeberger's archive his Sonata for Solo Violin, which was composed in 1942. Not long after, I recorded the work which was released by the British label First Hand Records in August 2021. The piece accumulates exigently in a technical approach similar to pre-WWII rhetoric, and finds in itself Hindemith's influence and the shades of early 20th century performing aesthetic. Strongly identifiable melodies in Schneeberger's language cannot disregard his talent as a composer.
Dmitry Smirnov's album Bartók, J.S. Bach & Schneeberger: Solo Violin Works is available now on First Hand Records
Listen to an excerpt of Dmitry Smirnov's premiere recording of Schneeberger's Sonata for Solo Violin:
Read: Violinist Hansheinz Schneeberger, 1926-2019
Read: Hansheinz Schneeberger plays Paganini aged 91
Read: Dmitry Smirnov wins 2015 Tibor Varga Violin Competition Sion Valais
Read: The Suzuki method: A visionary with a violin