In a career spanning more than six decades, this doyen of British violists played with the Bournemouth Symphony Orchestra, the Scottish National Orchestra and taught many of today's eminent viola players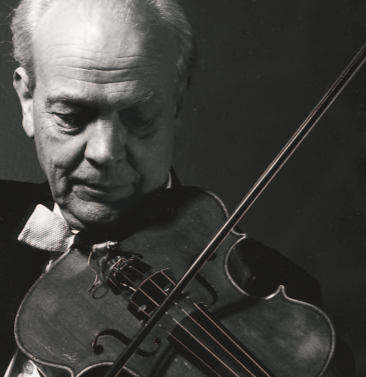 The violist James Durrant died in Glasgow on 21 May aged 91. In an extremely productive career, he performed with the Bournemouth Symphony Orchestra, the Scottish National Orchestra and taught and conducted at the Royal Scottish Academy of Music and Drama.
In a 2005 profile of Durrant for The Strad, the music critic and journalist Tully Potter wrote 'It would be easy to depict Jimmy Durrant as an eccentric, especially if you have seen him on the concert platform. He plays a battered modern viola (by Giovanni Balti Morassi, Cremona, 1974) which he ran over in his car 22 years ago; and in his performing days a party piece was Sounds Around, by his friend Edward McGuire, in which the stage was strewn with all manner of household utensils – many of them manipulated by his wife Dawn, a former percussionist. He and Dawn live in an enormous old house in Victoria Circus, Glasgow, full of rooms as packed with clocks and outlandish bric-a-brac as Geppetto's workshop (or Torquemada's in L'heure espagnole).
'When the Durrants move out later this year, after 30 years in the place, it will be the end of one era – but knowing Jimmy, even at 75 he has several more eras within his capabilities. For this man is far from being an eccentric. His life has been built on unremitting hard work which still takes him out of the house five days a week, to teach, coach or conduct at the Douglas Academy (a music school attached to a secondary school), St Mary's Music School in Edinburgh, Hutchesons' Grammar School and the Royal Scottish Academy of Music and Drama. His secret is that whatever he does, he seems to enjoy it – more than that, to get fun out of it.'
Born in Bournemouth on 23 November 1929, Durrant started the violin at eight, even though there were no musicians in his family. His father died the same year but on his deathbed said his son must carry on with his music. So he did, studying with Cecil White of the Bournemouth Symphony Orchestra whom he credited with giving him a very good grounding.
Durrant's mother kept the family afloat by scrubbing floors six days a week and Durrant had to leave school at 14 to go to work; but he continued playing, as he told Tully Potter: 'Cecil would get me into the pit at the Pavilion, where they did ballets, shows and concerts. I remember my first Messiah in 1943 – Isobel Baillie was singing. Frederick Grinke came to play. And Primrose came and did the "Handel" Concerto in 1944. When I heard Primrose, that was it. Luckily my teacher had a viola and I started to play it. Cecil used to conduct local orchestras. I first met my Mozart symphonies there.'
At seventeen Durrant was called up for national service and placed in the Royal Artillery Band, where he learnt the bassoon. He also played in the regimental orchestra. 'I nearly took up the bassoon,' he confessed to Potter. 'When I came out of the Artillery I was principal bassoon in the Ford Motor Works Band, chopping up metal all day and farting away on the bassoon in the evening.'
Later Durrant returned to the viola and went back to Bournemouth as a member of the BSO. In 1957 he was appointed principal viola of the Scottish National Orchestra and moved to Glasgow. He was headhunted for the LSO principal's job, but suffered a burst eardrum on the the flight down. According to Potter: 'But for a caprice of fate, which made him a musician and gave him ears which could not tolerate flying in aeroplanes, James Durrant's career might have taken him to all corners of the globe. As it was, he settled for illuminating one corner.' And that corner was Glasgow, where Durrant remained and continued to play with the SNO - frequently working with Scottish Opera - and with the Scottish Baroque Ensemble.
Durrant also began to champion and commission works from Scottish composers, starting with Martyr by Edward McGuire. He was frequently on the radio, often playing a new work, and with the SNO he broadcast works including Hindemith's Kammermusik No.5, Benjamin's Romantic Fantasy for violin and viola, and the concertos by Bartók, Hawthorn-Baker and Purser.
In 1964 he began teaching at the RSAMD. 'I was offered the job because the Scottish Piano Trio wanted a viola,' he modestly told Potter. 'We formed the Scottish Piano Quartet and did all the piano quartets.' Among Durrant's pupils were Alistair Beattie, James Sleigh, Scott Dickinson, Duncan Ferguson and Gillianne Haddow.
He also worked with the legendary Czech violist Ladislav Cerny, dedicatee of Hindemith's great solo Sonata and many other works. 'Cerny opened my eyes to the realisation that what's on the page is just the beginning,' said Durrant.
Later in Durrant's career he started to conduct - continuing to do so until 2003 - and was head of orchestral studies and strings at the Academy from 1989-94.
'As player and teacher, Durrant has done more for the viola in Scotland than anyone,' says Potter. 'You could even say that Durrant, an Englishman, has made up for the fact that the most celebrated Scots violist, William Primrose, did not take up the instrument until he had long shaken the dust of his native land off his feet.
In his obituary of Durrant, Potter writes: 'Jimmy and Dawn were among the nicest couples it has ever been my pleasure to know. Our sympathies and condolences go to Dawn and the extended family.'