Born in Turkey, Kueden was previously deputy concertmaster of the Deutsches Symphonie-Orchester Berlin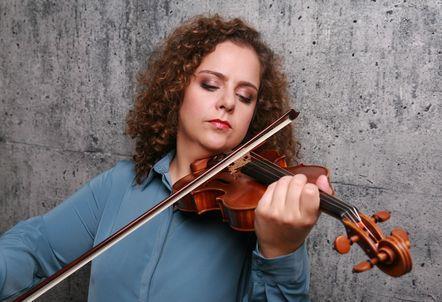 The Berlin Philharmonic has confirmed the appointment of Hande Kueden as a member of its first violin section. The violinist was born in Adana, Turkey, and has performed with the orchestra since late last year. She was previously a member of its Karajan Academy.
Kueden studied with Dania Kainova at Çukurova University in Adana and won first place in the Gülden Turalı and Necdet Remzi Atak violin competitons. In 2012, she moved to Berlin's Academy of Music 'Hanns Eisler', where her teachers were Stephan Picard and Tabea Zimmermann. She was subsequently appointed Ferenc Fricsay Fellow of the Deutsches Symphonie-Orchester Berlin and became the orchestra's deputy concertmaster in 2016.
Read: Berlin Philharmonic recruits first female first principal of the second violins
Watch: Christian Tetzlaff and friends from the Berlin Philharmonic play Schubert's Octet
'I'm so happy!,' Kueden said in a statement on posted on the Berlin Philharmonic's website. 'I dreamed of playing with the Berliner Philharmoniker when I was thirteen, and now my dream has come true. I am delighted to be able to perform together with great colleagues and be part of a fantastic violin section.'