Charlotte Gardner listens to the performance at the Berlin Philharmonie on May 7 2022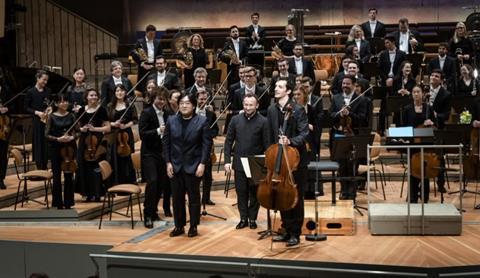 'Learn from the pros' is the motto of the Karajan Academy, where Berlin Philharmonic members train young musicians for professional orchestral life. So the line-up for its 50th-birthday concert felt fitting: an orchestra comprised of Academy and Philharmonic members; conducting shared between the Philharmonic's chief conductor Kirill Petrenko and conducting scholar Nodoka Okisawa; and the world premiere of Donghoon Shin's cello concerto Nachtergebung, performed by Bruno Delepelaire, former Academy scholar and now first principal cello. The playing demonstrated why around a third of today's Philharmonic are former Academy members.
First up, Okisawa directed an enjoyably operatic reading of Mozart's 'Linz' Symphony, her gestures small in size but packing a punch in expressivity. Then over to Petrenko for the Nachtergebung, which opened with a long-limbed cello lament set against hushed, oriental-sounding percussion effects; then onwards through a dramatically taut succession of six contrasting movements, with starring roles for woodwind, and all exploiting the lyric and virtuosic strengths of Delepelaire. The result was fresh light shone on the subsequent Beethoven Symphony no.5 with its own sharp contrasts. The enthusiastic audience response throughout was richly deserved.
CHARLOTTE GARDNER