Borwitzky spent 37 years as the orchestra's first principal cellist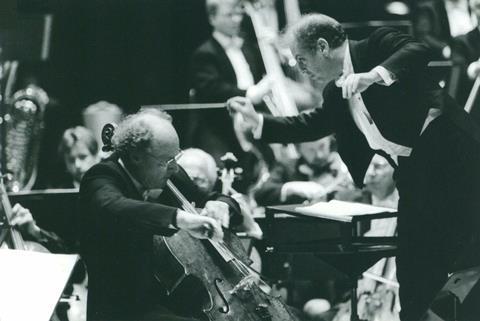 Cellist Ottomar Borwitzky, who spent 37 years as first principal cellist of the Berlin Philharmonic, has died aged 90. Born in Hamburg in 1930, Borwitzky dropped out of school to become solo cellist of the city's Radio Symphony Orchestra aged just 17. From there he was appointed first principal cellist of the Hamburg Opera in 1954 and then, in 1956, with the Berlin Philharmonic.
Borwitzky joined the orchestra on the same day Herbert von Karajan's position as its principal conductor was made permanent and retired in 1993, four years into the tenure of Claudio Abbado. Borwitzky was a founding member of the 12 Cellists of the Berlin Philharmonic and joined the orchestra's Karajan Academy in 1979.
Borwitzky's death comes only a month after that of Wolfgang Boettcher, principal cellist of the Berlin Philharmonic between 1963 and 1976.
Read Turkish violinist Hande Kueden joins Berlin Philharmonic
Watch The 12 Cellists of the Berlin Philharmonic play The Pink Panther theme tune
Read Wolfgang Boetttcher – principal cellist of the Berlin Philharmonic under Herbert von Karajan – has died
In a statement, current Berlin Philharmonic cellist Knut Weber said: 'Ottomar Borwitzky was a musical personality of extraordinary charisma. He played with an intensity that gave expression to even the briefest musical phrase. His sound was flawless, yet always lively. Through his skill, musicality and incomparable charisma, he was an inspiration to the orchestra's cello section for decades. In a personal capacity, he was gracious, humorous and always willing to share his immense knowledge with others. With Ottomar Borwitzky we lose a key musician of the Karajan era. We will not forget him."