Wetherbee died on 9 January 2023, following a wide-reaching GoFundMe campaign to raise funds for his intensive cancer treatment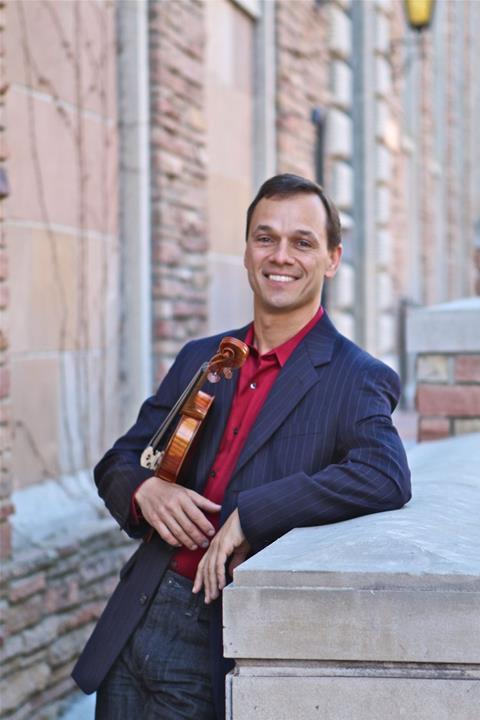 Read more news articles here
US violinist Charles (Chas) Wetherbee died on 9 January 2023, following a long battle with cancer. He was 57. Wetherbee's medical treatment had been widely publicised in recent weeks, as a GoFundMe page was set up to raise funds for his medical bills and help support his family, for which he was the main provider.
'Early this morning we said goodbye to Chas Wetherbee, my best and most trusted friend, co-conspirator, long-time collaborator, creative partner, geocaching-streak-enabler, fabulous first violinist, beloved husband to Karina and amazing father to Tristan, Sebastian, and Tessa, and a beautiful example of all that is good in the world,' said Korine Fujiwara, violist of the Carpe Diem String Quartet, in an update to Wetherbee's GoFundMe page. 'In these last few weeks he was continuously surrounded by love radiating from all around the world. Oh, how we will miss him.'
The GoFundMe page has raised almost USD$200,000 for the Wetherbee family since its initiation on 5 December 2022. Fujiwara plans to keep the fundraiser open to help cover upcoming expenses for the Wetherbee family, including mortgage payments and health insurance.
'I write this through tears, but wrapped in all the love we have been feeling over the last weeks and months,' said Karina Wetherbee on the GoFundMe page. 'Chas composed his final note last night, with so so many loved ones nearby. I know now, that his life's work was a symphony, of the most grand and sweeping and lyrical beauty, and each note of that music was made up of all the millions of interactions he had with every person–all of you–who entered his life, the testament of which I've seen played out in all the beautiful comments I've read in these pages and elsewhere.
'There will be many celebrations of his, some quiet with family, some public with all of you, but rest assured, music will be involved, as we honour this spectacular soul, my life-long love, and all he gave to the world.'
Born in 1966 in Buffalo, New York, Wetherbee gave his first performances at the age of six. He studied at the Curtis Institute of Music with Aaron Rosand and embarked on a successful career as a soloist, chamber musician, orchestral concertmaster, teacher, coach and collaborator.
He made his debut with the Buffalo Philharmonic Orchestra under Symon Bychkov, and since then has performed with orchestras throughout world, including the National Symphony under Mstislav Rostropovitch, the Kyoto Symphony and Japan Philharmonic, the Philadelphia Chamber Orchestra, the Philharmonic Orchestra of Bogota (Columbia), the National Repertory Orchestra, the Orquesta Sinfónica Nacional de Mexico, the Symphony Orchestra of the Curtis Institute, the Buffalo Philharmonic, and the Virginia Symphony.
He held the post of principal second violin with the National Symphony Orchestra in Washington D.C., as well as the concertmaster post of the Columbus Symphony Orchestra in Columbus, OH. Since 2012, he served as associate professor of violin at the University of Colorado Boulder, College of Music. He was also concertmaster of the Boulder Philharmonic Orchestra.
In 1988 he toured Asia, including performances in Seoul, Korea, as part of the Olympic Arts Festival. In the same year he also made his New York debut at Carnegie Hall to critical acclaim as a participant in the American Music Competition. In 1990, he traveled to the Persian Gulf to perform for the men and women of the armed services. He gave the Russian premiere of John Corigliano's Violin Concerto in 2007 and the world premiere of Jonathan Leshnoff's Violin Concerto in 2005.
In addition to chamber collaborations with numerous ensembles, Wetherbee was the first violinist of the Carpe Diem String Quartet. The quartet had been awarded grants to expand its reach and community engagement with diverse repertoire tailored to specific audience demographics; and had toured the US and abroad with its wide repertoire encompassing classical, Gypsy, tango, folk, pop, rock, and jazz-inspired genres.
As a recording artist, he recorded on Naxos, Seize the Music Records, Weasel Records, Vienna Modern Classics and the Cascade labels.
Wetherbee was due to perform Mozart Violin Concerto no.5 with the Boulder Philharmonic Orchestra on 22 January. The concert will now be dedicated to his memory.
View and donate to the fundraiser here: https://www.gofundme.com/f/help-violinist-charles-wetherbees-family