A GoFundMe page aims to support the family of violinist Chas Wetherbee, who is hospitalised with cancer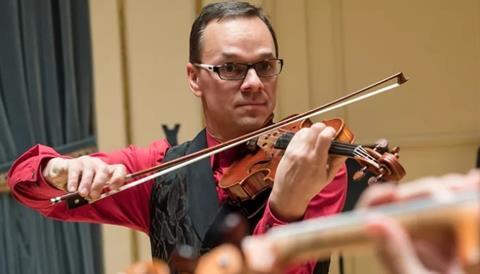 Read more news articles here
Funds are pouring in rapidly to support a violinist and his family as he undergoes intensive cancer treatment.
US violinist Charles (Chas) Wetherbee is the main provider for his family of five. He was diagnosed with renal cell carcinoma and underwent surgery in 2018, quickly resuming performing and teaching engagements shortly afterwards. In early 2021, the cancer had returned and metastasised, upon which he began radiation treatments targeting areas on his bones and various treatment protocols for internal organs. Following this in 2022, Wetherbee had two neck surgeries to replace fractured vertebra made fragile due to the cancer. Wetherbee is currently hospitalised, his cancer progressed to a point where he cannot teach or perform.
'Healthcare costs are mounting and are well beyond what insurance can cover,' reads the GoFundMe page set up by Korine Fujiwara. 'Other family insurance is not sufficient to meet new and expected expenses that are quickly climbing. We all know that medical and home health care costs are astronomical and that the loss of income is not sustainable.'
The fundraiser was set up on 5 December 2022. After only a day, over $94,000 has been raised towards its target of $100,000.
Wetherbee was the former concertmaster of the Columbus Symphony Orchestra, principal second violin of the National Symphony Orchestra, violinist of the Carpe Diem String Quartet, as well as a frequent soloist and chamber collaborator. Recently, Wetherbee served as associate professor of violin at CU Boulder and concertmaster of the Boulder Philharmonic.
View and donate to the fundraiser here: https://www.gofundme.com/f/help-violinist-charles-wetherbees-family