The 31-year-old South Korean violinist's debut album with the label is set for international release in June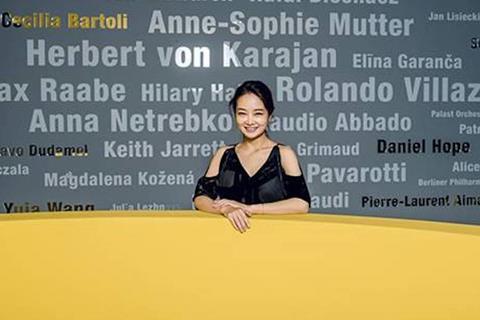 The 31-year-old South Korean violinist Bomsori Kim has signed to Deutsche Grammophon. Kim's debut album with the label, Violin on Stage, which features pieces originally written for or inspired by opera or ballet, is set for international release in June.
Born to musical parents in the city of Daegu in 1989, Kim studied music at Seoul National University before completing her training at New York's Juilliard School. She launched her career with a series of prize-winning performances at competitions including the ARD, Queen Elisabeth, Sibelius, Tchaikovsky and Wieniawski. She has since performed in venues all over the world, from Carnegie Hall and Lincoln Center to Vienna's Musikverein, the Berlin Philharmonie and Suntory Hall in Tokyo.
Bomsori received the 2018 Young Artist Award from the Korean Ministry of Culture, Sports and Tourism, and the Korean Music Association's 2019 Young Artist Award. In 2020 she was presented with the 4th G.rium Artists Award by the Foundation Academia Platonica and, together with Rafał Blechacz, won the Fryderyk Music Award for 'Best Polish Album Abroad' for their DG recording of French and Polish repertoire.
On signing to DG, Kim says, 'I feel truly honoured to join Deutsche Grammophon and follow in the footsteps of so many legendary artists. The Yellow Label stands for excellence and the best of tradition. It is also committed to reaching new audiences and connecting as many people as possible via the powerful emotions of great music. I share that commitment and want to communicate to the world through music. I hope my new album for DG will touch and inspire listeners of all ages.'
Read: Bomsori Kim: Shostakovich and Wieniawski concertos

Read: Violinist Randall Goosby signs to Decca Classics
Read: Cellist Christian-Pierre La Marca signs to Naïve
'It's my great pleasure to welcome Bomsori to the Yellow Label,' comments Dr Clemens Trautmann, President Deutsche Grammophon. 'Her extraordinary virtuosity is matched by an ability to make the violin sing. We love the way she's prepared to take risks in the moment of performance and the heartfelt poetry of her playing. Bomsori's DG debut solo album is a tremendous showcase for her artistry and we look forward to creating many more recordings with her in future.'
Forthcoming highlights for Kim include the broadcast on DG Stage (5 March 2021) of a concert with the NFM Wrocław Philharmonic and Guerrero featuring works by Wieniawski and Waxman which will also appear on Violin on Stage; a seven-concert artist residency at the 2021 Rheingau Festival; and two dates at this summer's Gstaad Menuhin Festival as one of its 2021 Menuhin's Heritage Artists.