The spotlight shines on a stylish theatre-themed collection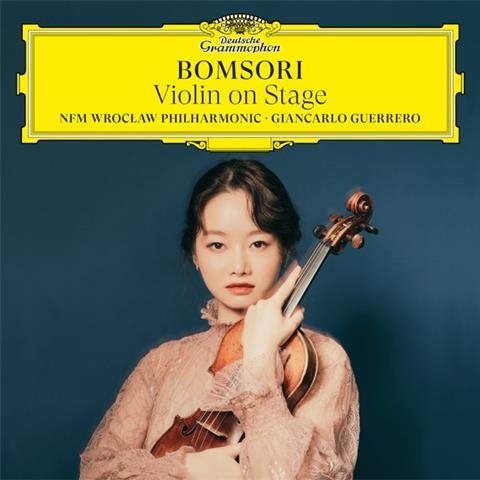 The Strad Issue: October 2021
Description: The spotlight shines on a stylish theatre-themed collection
Musicians: Bomsori (violin) NFM Wrocław Philharmonic/Giancarlo Guerrero
Works: Wieniawski: Légende; Polonaise de concert op.4; Fantasy on Gounod's Faust. Saint-Saëns: Rondo capriccioso; 'Mon coeur s'ouvre à ta voix'. Gluck: Dance of the Blessed Spirits. Waxman: Carmen Fantasy
Catalogue number: DG 486 0788
Since taking second prize at the Wieniawski Competition in 2016, the Korean violinist Bomsori has maintained strong links with Poland and Polish musicians such as a recital partnership with Rafał Blechacz. Her nimble fingerwork, quick vibrato, rapier-like harmonics and relatively slender tone cut her out for French-accented Polish repertoire even at the Russian-sounding end such as Wieniawski's op.17 Légende, and the same composer's op.4 Polonaise de concert gets her latest album off to a winning start even if it has nothing to do with the avowed theme of music from or for the stage.
Neither does the Introduction and Rondo Capriccioso of Saint-Saëns, where Bomsori and the orchestra run into some co-ordination issues hinted at in the booklet essay's discussion of the complex logistics involved in recording it at all late last year. While she sounds more chaste than any Dalila I've heard, her instrumental version of 'Mon coeur s'ouvre à ta voix' still sings and follows the text with a sense of style that eludes her in an over-precious, china-doll account of Gluck's Dance of the Blessed Spirits.
We're accustomed to a fuller-fat, more Hollywood tone for Waxman's Carmen Fantasy, but Bomsori makes it work with a balletic grace of articulation before returning to something like home territory to round off the album with its one comparative rarity, a testing 20-minute Fantasy on Gounod's Faust by Wieniawski. There is curiously no 'Jewel Song', but Bomsori brings a wicked glint to the Mephistophelean 'Veau d'or' section and nicely distinguishes the protagonists of the subsequent love duet. All perfectly charming – but perhaps next time she could exercise her considerable talents on some Szymanowski.
PETER QUANTRILL