Three prizes of $50,000 will support emerging to mid-career creative professionals who are immigrants to the US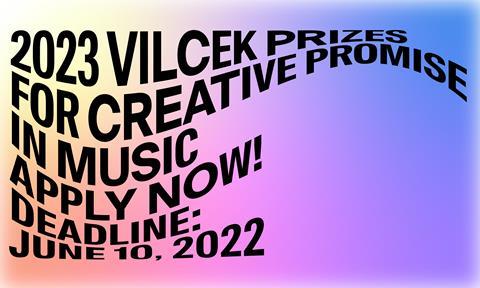 The Vilcek Prizes for Creative Promise support emerging to mid-career immigrant artistic professionals who have demonstrated exceptional achievements early in their careers.
Immigrant composers, conductors, DJs, instrumentalists, producers and singers are encouraged to apply in a number of genres. Applicants should have been born outside of the United States and be 38 years of age or younger, but limited exceptions to the age requirement will be granted to those who have taken time off for caregiving, medical, military, or parental leave. Three winners will each receive a $50,000 cash prize and be honoured at an awards ceremony in New York City in April 2023.
Applicants should have five years of professional experience in music and possess a strong track record of creative and innovative work, as well as illustration of how experiences as an immigrant has shaped and influenced their success.
Applications are open until 10 June 2022. For more information, click here.
The Vilcek Foundation raises awareness of immigrant contributions in the United States and fosters appreciation of the arts and sciences. The foundation was established in 2000 by Jan and Marica Vilcek, immigrants from the former Czechoslovakia. Since then, the foundation has awarded over $5.8 million in prizes to foreign-born individuals and supported organisations with over $5.3 million in grants.