The Galvin Cello Quartet will join the CAG roster, as well as receive support for professional development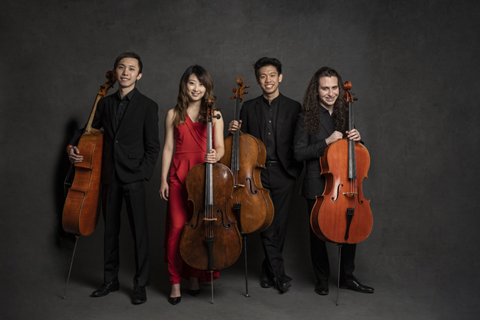 The Concert Artists Guild (CAG) has announced the winners of the 2022 Victor Elmaleh Virtual Competition. Four artists will receive North American representation from CAG, a New York debut performance and participate in the CAG 360 Leadership Development Programme.
The winners are soprano Magdalena Kuźma, bassoonist Eleni Katz, pianist Llewellyn Sanchez-Werner and Galvin Cello Quartet.
The Galvin Cello Quartet, comprising cellists Sihao He, Sydney Lee, Haddon Kay and Luiz Fernando Venturelli, formed during the pandemic while studying at Northwestern University's Bienen School of Music with Hans Jørgen Jensen. The quartet won a silver medal at the 2021 Fischoff National Chamber Music Competition.
In addition, soprano Kuźma and clarinettist Jonathan Leibovitz were named as CAG/Young Classical Artists Trust (YCAT) Grand Prize winners. The will receive international management with CAG and London-based YCAT, performances at both Merkin Hall at Kaufman Music Center in New York and Wigmore Hall in London and participate in the CAG 360 Leadership Development Programme.
Previous CAG alumni include the Balourdet Quartet, the Merz Trio, violinists Charlotte Saluste-Bridoux and Geneva Lewis, violist Jordan Bak and cellists Gabriel Martins and Jamal Aliyev.