The former principal cellist of the New York City Ballet and brother of conductor Leonard Slatkin has died aged 75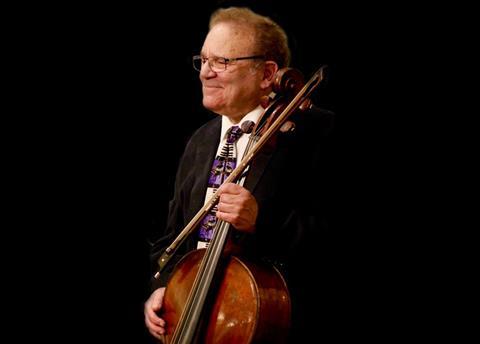 Read more news articles here
The death of American cellist, teacher and recording artist Fred Zlotkin was announced on 2 September 2022. 'It is with a heavy heart that I inform you of the passing of my brother, Fred Zlotkin,' conductor Leonard Slatkin posted on social media. 'He was a wonderful father, musician, and friend.'
Zlotkin was a graduate of the Juilliard School and studied with Gregor Piatigorsky, Leonard Rose and Channing Robbins. He became a long-standing principal cellist of the New York City Ballet at the Lincoln Center, a post he held since 1972 until his retirement last year. Zlotkin performed numerous works with choreography at the ballet, including the Walton Concerto (Peter Martins, choreographer), Tchaikovsky's Roccoco Variations (Christopher Wheeldon, choreographer) and the Shostakovich Cello Sonata (Melissa Barak, choreographer) in addition to numerous other solo and chamber music works.
'Devastated to hear the sad news that Fred Zlotkin passed away,' wrote Katharina Kang Litton, principal violist of the New York City Ballet. 'Fred was principal cellist of our orchestra for 50 years and was the kindest colleague and friend you could wish for. We will miss him dearly.'
As a soloist, he was a former winner of the Geneva International Music Competition and enjoyed solo engagements with l'Orchestre de la Suisse Romande, the Minnesota Orchestra, the National Symphony Orchestra and the St. Louis Symphony.
His chamber music appearances included as member of the Lyric Piano Quartet, guest artist with the Chamber Music Society of Lincoln Center, the Aspen Music Festival, Chicago's Ravinia Festival, the Minnesota Sommerfest and the BridgeMusik Festival.
'Fred was a member of our advisory board and also performed in almost every single BridgeMusik concert since the founding of the programme - including several concerts this summer,' said BridgeMusik on social media. 'He mentored our students and inspired our faculty members. Fred leaves a huge void in our community and in our hearts. We will never forget him.'
A prolific recording artist, he recorded for hundreds of motion pictures and with numerous contemporary artists such as Frank Sinatra, Madonna, Aretha Franklin, Neil Young, and many others.
Zlotkin served as president of the Violoncello Society (VCS) Inc. of New York from 2017 to 2019. 'Fred was an amazing person in addition to being a supremely gifted cellist,' wrote current VCS president, Kate Dillingham on social media. 'I will always remember him as a joyful, robust, passionate artist with a big heart and a warm smile. He made many beautiful and valuable contributions to the world of music and to the VCS. I will miss him.'
A member on the faculties of Manhattan School of Music, Queens College, Hoff-Barthelson Music School and the Brooklyn College of Music, he also served as adjunct professor at SUNY-Purchase and as music director of the Montauk Chamber Music Society.