Hungarian violinist Gyula Stuller held the post of solo first violin at the Orchestre de Chambre de Lausanne since 1990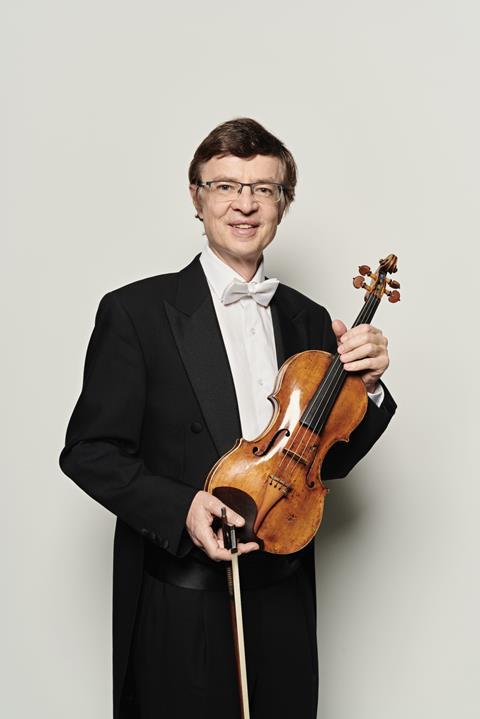 Read more news articles here
Hungarian violinist Gyula Stuller will leave the Orchestre de Chambre de Lausanne (OCL) after 32 years as its solo first violin. He will continue in his role as head of strings at the Haute Ecole de Musique (HEMu) in Lausanne, Switzerland, where he has taught violin since 2008. He teaches at the school's three campuses across Switzerland. He has also held professor positions in Switzerland at the Fribourg Conservatory in Fribourg, and Tibor Varga Conservatory in Sion.
Born in Budapest in 1962, Stuller began his studies at six years old with Dr Ilona Hencz. He later studied at the Franz Liszt Academy with Ferenc Halász and the Guildhall School of Music and Drama in London with György Pauk. Early in his career, Stuller won a host of international competitions, including the 1979 Joseph Szigeti International Violin competition and 1986 International Tibor Varga Violin competition, after which we stayed in Sion as Tibor Varga's assistant and became concertmaster of the Detmold Chamber Orchestra. Stuller also studied with violinists such as Nathan Milstein and Sàndor Végh.
Stuller has also been a jury member of several international competitions, most recently at the Il Piccolo Violino Magico competition. He was also artistic direcor of the Academie Musicale de Morges in Switzerland between 2007 and 2014, and tutors at festivals across the world, in particular the International Summer Academy in Biel, Switzerland.
On social media, the OCL said about Stuller, 'We thank him for all these wonderful years and wish him well in his future endeavours, in particular in his role as professor of violin at the HEMu.'