Dutch double bassist Rick Stotijn speaks about his quest for new repertoire, as well as his collaborative work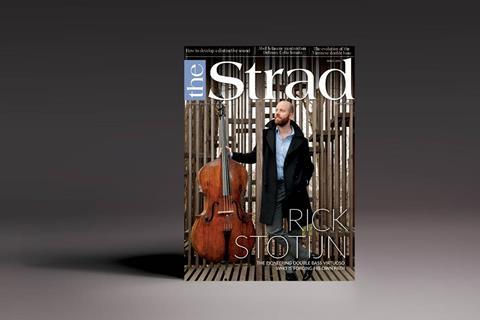 Rick Stotijn: The Dutch double bassist is on a continual quest for original repertoire for his instrument. He tells Kimon Daltas about his new album and collaborative work
The Viennese Double Bass: Alex Kanzian explains how the Austrian capital became the crucible for a new kind of bass during the 18th and 19th centuries, and its distinguishing features
Scottish Fiddle Dance Music: How did the reels and strathspeys of 200 years ago become the mainstay of the fiddling tradition in Scotland? Aaron McGregor gives a potted history
Session Report: Thought lost until 2009, Florence Price's Violin Concerto no.2 has now been recorded by Rachel Barton Pine. She tells Harry White how the project came about
Developing your own sound: Some of today's leading soloists tell Charlotte Gardner how musicians can make themselves stand out at a time when so much playing seems to sound the same
The Strad Calendar 2023: This year's calendar brings together twelve instruments owned or played by Australians. Christian Lloyd gives an overview of 'The Australian Collection'
In our regular sections:
In Focus: Ernst Fuchs examines a c.1900 violin by the Genoese maker Raffo Cipriani
Trade Secrets: Luthier Trevor Davis's method for making a mould for cellos and basses
My Space: Australian luthier Ilja Grawert
Making Matters: Why the early history of the violin's development needs to be re-examined
Masterclass: Cellist Abel Selaocoe on the first movement of Debussy's Cello Sonata
Technique: Violist Stephen Upshaw gives tips on how to develop your base knuckle strength
Life Lessons: The memories and opinions of Hank Dutt, violist with the Kronos Quartet
Opinion: Why an orchestra's sound is shaped by the acA report from the Rosendal Chamber Music Festivaloustic of its home venue
Postcard from Norway: A report from the Rosendal Chamber Music Festival
From the Archive: From October 1892 - playing with hot or perspiring hands
Sentimental Work: Violist Nobuko Imai on Mozart's Symphony no.40 in G minor K550
We also bring you news of the latest products and auctions, plus our regular analysis and opinion columns, and comprehensive reviews of concerts, recordings and books. Simply go to the latest magazine to explore the full content listing.
Plus, in your October digital edition:
View extra photos of Rachel Barton Pine recording the Florence Price Violin Concerto in Session Report, with audio clips from the recording
Preview The Strad Calendar 2023, with extra all-round images of the c.1610 Maggini viola, one of the treasures of 'The Australian Collection'
In Focus: more of this month's featured instrument, a c.1900 violin by Raffo Cipriani
My Space: a pictorial tour of Australian luthier Ilja Grawert's innovative workshop in a truck
More pictures to support our round-up of Scottish fiddle dance music, including Henry Raeburn's portrait of composer Niel Gow, and Scottish violinist William Marshall
And finally, clips from the three recordings feted with that coveted nomenclature: 'The Strad Recommends'
The digital magazine and print edition are on sale now, or subscribe to access the entire magazine online here.