Edwin Barker, principal double bass of the Boston Symphony, argues that an orchestra's 'home' concert hall shapes the unique character of the ensemble's sound more any other factor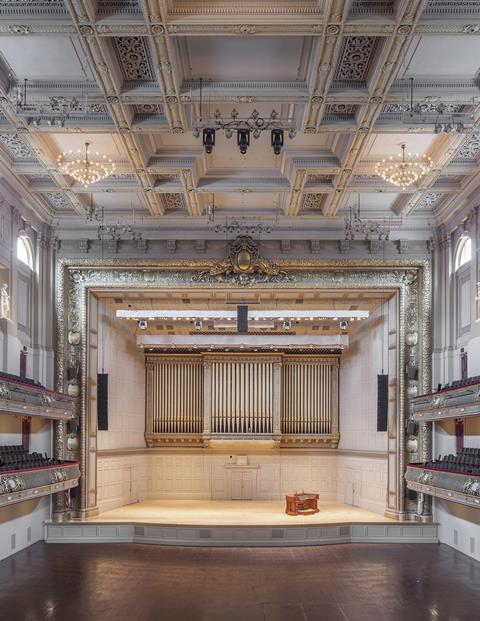 Discover more Featured Stories like this in The Strad Playing Hub
Read more premium content for subscribers here
Clearly, many factors contribute to the sound of an orchestral string section: the resident culture and language, the influence of the music director, even the temporary influence of a guest conductor on a specific performance. However, something in the acoustic underpinnings of the ensemble's sonic character remains intact. I am convinced that a major symphony orchestra's sonic identity, its characteristic DNA, is determined by its association with its home acoustical environment.
My orchestra, the Boston Symphony, is regarded as one of the more 'European'-sounding American orchestras. Its home venue, Symphony Hall, has a 'shoebox' design – a rectangular space with a raised stage at one end. Symphony Hall's acoustics have a powerful influence on the elegant and rich sound of the orchestra's string section, and other shoebox concert halls, such as the Musikverein in Vienna and Concertgebouw in Amsterdam, have forged similar sound identities in their resident orchestras. I have noticed strong similarities in the way the Vienna and Boston orchestras sound in Symphony Hall, in comparison with other American orchestras, such as Los Angeles and Chicago.
Some years ago, I was fortunate to hear the Vienna Philharmonic perform a Bruckner symphony in Symphony Hall under the baton of Georg Solti. I was impressed by the similarities in the collective tone production between the Vienna and Boston orchestras, especially in the strings. Likewise, another time I enjoyed hearing my former orchestra, the Chicago Symphony, also under Solti, in Symphony Hall. These two great orchestras, in the same concert hall, under the same conductor, had noticeably different and distinct sonic identities. One obvious conclusion is that the two orchestras reside in two very different architectural and acoustical home environments.
Given that highly trained classical musicians expertly react to their home acoustical setting, it seems logical that an orchestra's basic tools of sound production – tone colour, dynamics, rhythmic precision and articulation – are strongly influenced by their home concert hall, so much so that they continue to manifest those integrated sonic fingerprints in unfamiliar acoustical environments.
Symphony Hall's acoustics have a powerful influence on the string section
Though the acoustics of an orchestra's home environment play a significant role in its sound identity, the other primary influence is the psychoacoustic make-up of the human brain. Susan Rogers, expert in psychoacoustics and professor at Berklee College of Music, Boston, concludes that it 'seems logical that humans evolved certain qualities of conceptualising musical sound characteristics such as timbre, articulation/rhythm, intensity, and other sound communication characteristics as an adaptation to their physical and cultural environment'. I believe that many skilled instrumentalists' tone production and articulation subtly reflect the qualities of their speaking voice, which in turn affects their choice of instrument, its set-up, and ultimately their reaction to their acoustic environment. A classical concert hall is essentially a large-scale acoustic musical instrument, and its design reflects its region's culturally evolved sound characteristics. Highly trained musicians can process sounds to a great degree, and that ability is refined further to react to the acoustical characteristics of their home concert hall.
The 'identity sound' of a world-class orchestra develops over time to reflect the integration of its musicians, both individually and collectively, to the timbral feedback of their home. That tonal character is ultimately integrated into the collective DNA of the orchestra. Boston's Symphony Hall is essentially an elegant likeness of Vienna's Musikverein and its sibling shoebox, Amsterdam's Concertgebouw. In a sense their string sections, often praised for their rich and clear sound, are sonic cousins.
This article was published in the October 2022 Rick Stotijn issue.

The Dutch double bassist is on a continual quest for original repertoire for his instrument. He tells Kimon Daltas about his new album and collaborative work. Explore all the articles in this issue

More from this issue…