As the Sitkovetsky Trio celebrates its 15th anniversary this year, lead violinist Alexander Sitkovetsky looks back at the lessons he and his colleagues have learnt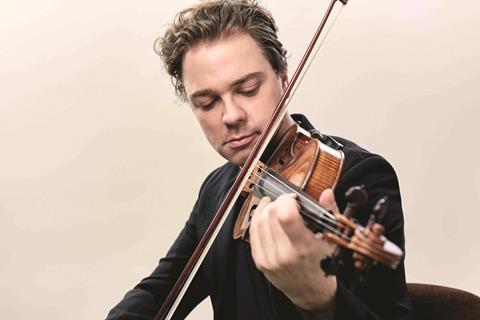 The formation of the Sitkovetsky Trio was not something that was planned. It was a very happy accident. None of us planned to form a group at the time, but Wu Qian, Leonard Elschenbroich (the original cellist of the trio) and I were invited to take part in an audition for a special project in the UK. We all knew each other from our student days at the Yehudi Menuhin School but hadn't been in touch for a long time. However, from the first note, we felt a 'click' that was undeniable; immediately, there was a wonderful sense of pleasure from making music. In the end, the project didn't happen, but we wanted to continue working together, so the trio was formed. When cellist Isang Enders joined, we felt that same click and couldn't wait to see how we evolved together.
It is important to be receptive and open-minded to each other's musical ideas and be willing to try everything. With Isang, Qian and myself, our musical upbringings are quite different. Sometimes we have different attitudes and ideas regarding style, phrasing and dynamics. That's a great thing! It is wonderful to question each other and try out different ideas, because it brings us to a more powerful interpretation in the end. Music is so open to different philosophies and possibilities – a single accent in Schubert can provoke heated debate. We use this as a positive. Our trio develops because of this open-minded way of working.
In our experience, nothing comes close to letting the interpretation develop naturally than through live performance. Whether in a house concert or at Wigmore Hall, you learn so much about what you are doing. Does the music breathe naturally? Do the articulations and dynamics you envisioned in a practice room translate to the performance space? All the questions asked in rehearsals begin to be answered on stage. We try to programme new works over the course of a season, and the difference between the opening performance and the final one can be huge. Once that is done, we think it is also essential to take the piece off the concert programme and let it rest at home for a while. When you come back to it, all the work you have put in before has been absorbed. The piece often takes on a new life: it sounds more mature and free. That's when the real magic can take place!
One of the crumbs of positivity to come out of this awful pandemic has been the ability to think more about long-term goals and plan for them. So often, the lives of musicians can be very hectic and we only have the time to think about upcoming concerts: the preparations, rehearsals, travel etc. Although this is exciting (and time-consuming), it is important to step back and think: 'Where do we want to be two years from now, and how do we get there?' The cancellations of so many concerts during the pandemic gave us time to strategise aspects of our career with a longer-term view.
It is not a coincidence that the greatest composers saved their best work for chamber music. Mozart with his Divertimento in E flat major for string trio and the viola quintets, Beethoven's 'Archduke' and the late string quartets, Schubert's everything! There is something about making music with friends in an intimate setting that is so personal and special that it is challenging to put into words. The piano trio is a unique medium because the writing and combination of instruments require the members to unify as a group and be individually brilliant. It is the best of all worlds, and we are very privileged to play such wonderful music together. Here's to the next 15 years!
This article was published in the March 2022 Leonidas Kavakos issue

The Greek violinist tells Charlotte Smith why his recording of Bach's Solo Sonatas and Partitas is a culmination of a three-decade journey. Explore all the articles in this issue

More from this issue…