Superstar cellist Johannes Moser speaks about his passion for exploring new sound worlds through his electric cello, alongside conventional works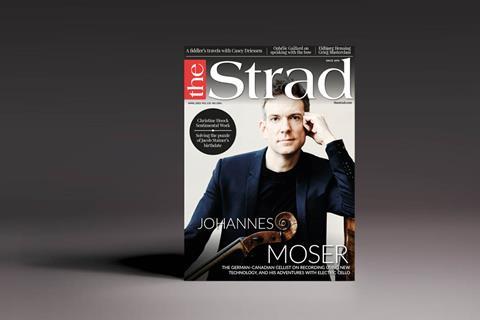 Johannes Moser: The German-Canadian cellist has always championed experimental repertoire and loves exploring the electric cello's possibilities, as he tells Peter Quantrill
Jacob Stainer's birth: The exact year of the Tyrolean luthier's birth has always been a matter of debate. Heinz Noflatscher reviews the evidence and reveals why we now have a good idea
Session Report: Violinist Rachel Podger and pianist Christopher Glynn tell Harry White how their recording of Beethoven's violin sonatas became a mix of styles and specialisms
Schroetter and Roth: Clifford Hall tracks the careers of two scions of German violin dynasties, both of whom left their homeland to represent their families' interests in America
Otherlands: What happened when US five-string fiddler Casey Driessen brought his music to six different countries on a nine-month road trip? He recalls the highs and lows
In our regular sections:
In Focus: A 1661 viola by Enrico Catenar
Trade Secrets: Stefan Krattenmacher presents his method for installing 'Baker-style' fine tuners
My Space: Mittenwald maker Rainer Leonhardt
Making Matters: Why luthiers might find it useful to class players into various 'types'
Masterclass: Eldbjørg Hemsing on the first movement of Grieg's Violin Sonata no.2
Technique: Cellist Ophélie Gaillard gives tips on how to improve your bowing technique
Life Lessons: The memories and opinions of American violinist Anne Akiko Meyers
Opinion: Eliciting feedback from students is an important – and overlooked – part of teaching
Postcard from Paris: The 2022 String Quartet Biennale at the Philharmonie de Paris
From the Archive: From April 1902
Sentimental Work: Double bassist Christine Hoock shares her love for Mišek's Sonata no.2
We also bring you news of the latest products and auctions, plus our regular analysis and opinion columns, and comprehensive reviews of concerts, recordings and books. Simply go to the current issue to explore the full content listing.
Plus, in your sparkling German-themed April digital edition…
Read about fiddler Casey Driessen's travels around Spain, Ireland, Scotland, India, Japan and Finland on the hunt for new kinds of music - with audio clips from each country
More from Rainer W. Leonhardt's Mittenwald violin workshop in My Space
View all-round photos of a 1661 viola by the German -born Turin maker Enrico Catenar in this month's In Focus
Rachel Podger and Chritopher Glynn take us through their new recording of Beethoven sonatas in Session Report, with a gallery of photos from the sessions
See how landmarks from the Sydney Opera House to the Lithuanian National Opera and Ballet Theatre have displayed the colours of the Ukrainian flag to show their solidarity with the war-torn country
And of course, clips from the trio of recordings decorated with that illustrious moniker 'The Strad Recommends'
The digital magazine and print edition are on sale now, or subscribe to access the entire magazine online here.