The competition, originally scheduled to take place in Richmond, Virginia, in May 2020, will now take place online this May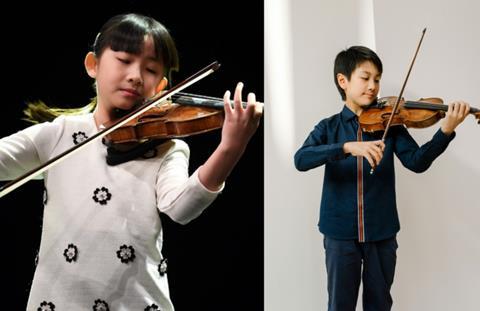 The International Menuhin Violin Competition, originally scheduled to take place in Richmond, Virginia, last May, will now take place virtually from May 14-23 2021.
Hosted by the City of Richmond, Richmond Symphony, University of Richmond, Virginia Commonwealth University and VPM, Virginia's home for public media, the competition will be viewable on the Menuhin Competition Richmond 2021 website.
Competitors will submit video files of their performances for judging, and those who need it will be provided assistance with securing equipment and recording spaces.
The required repertoire for the Competition was adjusted to account for the lack of orchestra and chamber ensemble and in the case of Senior First Rounds, to accommodate a number of competitors who did not have access to a piano for accompaniment due to lock-down restrictions. The Competition still includes two new commissions for solo violin: Mason Bates' Bound Away for Junior finalists, and a new work by Mark O'Connor for Senior semi-finalists.
Competitors' pre-recorded entries will be shown during the Competition dates, and winners announced at the end of each round.
Sitting on the jury are violinist Pamela Frank (Chair), violinist and conductor Joji Hattori (Vice-Chair), violinist Noah Bendix-Balgley, violinist and entrepreneur Aaron Dworkin, pianist Piers Lane, violinist Soyoung Yoon, violinist Angelo Xiang Yu, violinist, conductor and educator Alf Richard Kraggerud, Vice Principal at Barratt Due Institute in Oslo, and conductor Valentina Peleggi, who was appointed Music Director of the Richmond Symphony in 2020 and is also Guest Music Director with the Theatro São Pedro in São Paulo, Brazil. Recently, violinist Ray Chen and cellist Ralph Kirshbaum have had to step down from the panel.
Read: Chloe Chua and Christian Li share Menuhin Competition 2018 Junior Division first prize
Watch: 12-year-old violinist Chloe Chua plays Mendelssohn's Violin Concerto
Watch: 12-year-old Christian li plays Fisherman Harvest's Song
The virtual 2021 Competition will include performances from guest artists, including the Sphinx Virtuosi, Mark & Maggie O'Connor, and others. Chloe Chua and Christian Li, joint winners of the Junior 1st Prize from 2018, will each perform a solo recital as part of the Competition, and violinist and juror Angelo Xiang Yu will perform with the Richmond Symphony in the Gala Concert.
'The City of Richmond, Virginia is proud to host this year's prestigious Menuhin Competition in its first ever virtual version,' said Richmond Mayor Levar M. Stoney. 'We look forward to thousands of viewers from around the world joining us online and in spirit to celebrate extraordinary violin performances by talented American and international musicians and guest artists. During the nearly two weeks of competition, you'll get the chance to experience our host city virtually and share in some of the fun to be had in visiting the Richmond Region.'
The competitors are:
Junior Competitors

Hankyoung Chang, 13, South Korea
Corina Deng, 13, Canada
Kento Hong, 14, USA (New York)
Yixuan Jiang, 16, China
Mei Kaneko, 15, Japan
Dawid Kasprzak, 15, Poland
Fiona Khuong-Huu, 14, USA / Japan / France (New York)
Seohyun Kim, 12, South Korea
Sooeon Kim, 13, South Korea
Kayleigh Kim, 16, USA (Virginia)
Na Hyun Kyun, 16, South Korea / USA
Shannon Ma, 15, USA (California)
Boha Moon, 14, South Korea
Natsuho Murata, 13, Japan
Raphael Nussbaumer, 14, Switzerland
Seohyeon Park, 14, South Korea
Emrik Revermann, 12, Canada / Germany
Guido Sant'Anna, 15, Brazil
Hannah Wan Ching Tam, 15, China
Keila Wakao, 15, Japan / USA (Massachusetts)
Edward Walton, 14, Australia / UK
Jinan Laurentia Woo, 13, South Korea

Senior Competitors

Zachary Brandon, 22, USA (California)
Maya Anjali Buchanan, 20, USA (South Dakota)
Hana Chang, 18, Singapore / Japan / USA (Pennsylvania)
Eric Chen, 19, Taiwan / USA (New Jersey)
Maria Cherkassova, 21, Russia
Karisa Chiu, 21, USA (Illinois)
María Dueñas, 18, Spain
Matthew Hakkarainen, 20, USA (Florida)
Molin Han, 20, China
Joseph Hsia, 20, USA (New Jersey)
Hiroki Kasai, 21, Japan / UK
Tianyu Liu, 21, China
Bodhan Luts, 16, Ukraine
Emma Meinrenken, 21, Canada
Serin Park, 17, South Korea / USA (New Jersey)
Vikram Francesco Sedona, 20, Italy
Emily Shehi, 22, USA (Kansas)
Hannah Song, 20, USA (New York)
Claire Wells, 19, USA (Texas)
Dayoon You, 19, South Korea
Simon Zhu, 19, Germany