This year's Junior Final, featuring violinists aged between 10 and 13, took place in Victoria Hall, Geneva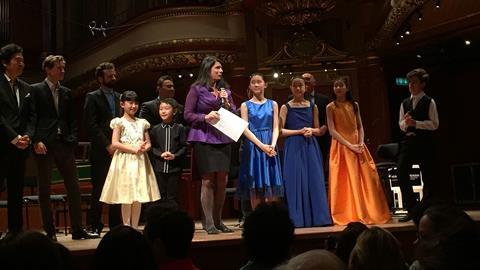 For the first time in its history, the Menuhin Competition Junior Division first prize has been shared - by 11-year-old Chloe Chua and 10-year-old Christian Li - following a Final held at Geneva's Victoria Hall this evening.
Six Finalists, whittled down from 22 competitors aged between 10 and 15 over two previous live rounds, directed the L'Orchestre de Chambre de Genève from the violin in one of Vivaldi's Four Seasons, and also performed the world premiere of the new commission for solo violin by Jaehyuck Choi.
Chua from Singapore and Li from Australia (also the contest's youngest ever finalist) each receive a first prize of CHF 10,000, plus the one-year loan of a fine old Italian violin by Florian Leonhard Fine Violins.
Third prize, worth CHF 5,000 goes to 13-year-old Ruibing Liu from China, while 12-year-old Clara Shen from Germany receives fourth prize worth CHF 3,000.
13-year-old Hina Khuong-Huu from USA/Japan/France receives fifth prize worth CHF 2,000, and 12-year-old Guido Sant'anna from Brazil receives sixth prize of CHF 1,500.
The Senior Final takes place tomorrow evening, during which four finalists, aged between 17 and 20, will perform a concerto in Victoria Hall with the Royal Philharmonic Orchestra conducted by Julian Rachlin.
The biennial Menuhin Competition is taking place from 12-22 April in Geneva, Switzerland. The 2018 jury comprises Joji Hattori, Itamar Golan, Ilya Gringolts, Henning Kraggerud, Lu Siqing, Josef Špaček, Maxim Vengerov, Soyoung Yoon and jury chair Pamela Frank.
The Menuhin Competition 2016 Senior Division was won by Ziyu He, while Yesong Sophie Lee triumphed in the Junior Division.
Visit the Menuhin Competition website for full details.
Photo: The six Junior Finalists on stage with jury chair Pamela Frank (photo: Menuhin Competition)