Tully Potter reviews a biography of the US violinist and pedagogue who taught Menuhin, Ricci and Stern among others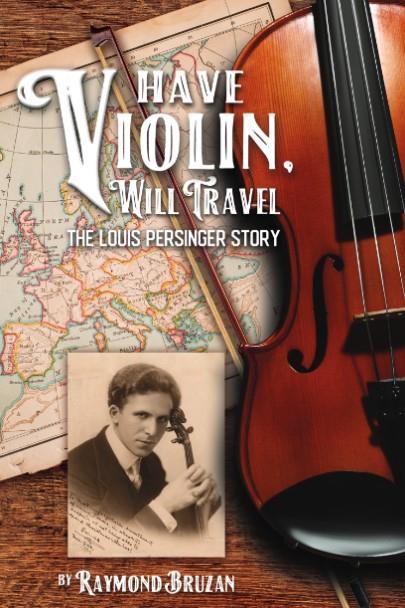 Have Violin, Will Travel: The Louis Persinger Story
Raymond Bruzan
212PP ISBN 9780999314661
SANGAMON VALLEY WRITING ASSOCIATES $24
The title of this slim book is something of a misnomer. The life of the American violinist, pianist and teacher Louis Persinger (1887–1966) is in here, but the author admits to enjoying 'the local history of his community' and there is so much detail about the various twigs, shoots and branches of the Persinger family tree that poor Louis often gets swamped.
In the fashionable American style, we also get rather too much information about Raymond Bruzan himself, his researches and how they were hindered by the Covid pandemic. 'It's hard to describe the feelings I had during my recent visit to Vienna, Austria,' he writes, 'while sitting on the Ehrbar Saal Concert Hall stage where Louis Persinger had performed in 1911.' Quite.
Like Albert Spalding, Persinger had his roots deep in the soil of North America. His name derived from Jacob Pertschinger, a German farmer who settled in Virginia in 1735. His mother, who was musical, was a Humphreys, from a family that was already in Virginia by the late 1600s.
Louis was born in Rochester, Illinois. His father worked on the railways and the family moved a number of times. In Colorado Springs the musical lad acquired a rich sponsor who paid for studies at Leipzig Conservatory. This man died but a wealthy female backer was found for Louis to learn with Ysaÿe for two years in Brussels. He was thus equipped with the best of the German and Franco-Belgian schools.
He developed a reasonable career but in 1913 opted for the life of an orchestral concertmaster in Berlin, Brussels and finally San Francisco, also touring with that city's Chamber Music Society and his quartet – Bruzan tells us nothing about these ensembles – but teaching more and more, especially at Juilliard from 1930. Pupils included Yehudi Menuhin, Ruggiero Ricci, Isaac Stern (briefly), Camilla Wicks and Guila Bustabo. We are given brief portraits of some of them. The UK's very own Diana Cummings was with him for a year.
No records were made of Persinger the violinist in his prime. It is ironic that we can easily hear him playing the piano on record, accompanying his pupils, but his few violin recordings from the 1950s – mostly with his violist son Rolf – are no longer easily available. They show a tidy, style-conscious fiddler but not a particularly individual personality. The book is well illustrated, although most of the pictures are very small.
TULLY POTTER