Held in San Vito al Tagliamento in north-eastern Italy, the international competition is for young violinists between the age of 9 and 14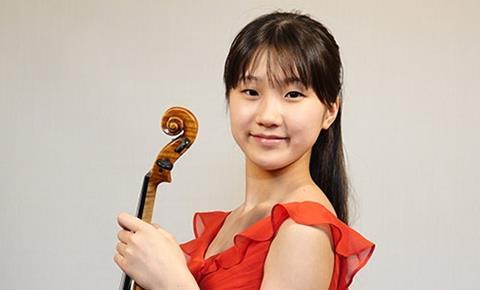 13-year-old British/Japanese violinist Yume Tomita has won first prize at the Il Piccolo Violino Magico Competition.
Tomita performed her winning programme of Mozart's Violin Concerto no.1 in B flat and Mendelssohn's Violin Concerto in E minor at the final on Sunday 11 July with the FVR Orchestra under the baton of Giancarlo Guarino. She receives €5000 in prize money, as well as a modern instrument made by Fabio Piagentini.
Second place was awarded to 14-year-old Leonhard Baumgartner from Austria, third prize to 12-year-old Anton Carus from the United States and fourth prize to 13-year-old Diana Chausheva from Bulgaria.
Yume Tomita was born in the UK in 2008 and began to play the violin when she was five years old. She was invited to give her first recital at the age of seven in Italy, and in the following year she was awarded a place at the Yehudi Menuhin School where she studied with Natasha Boyarsky, Diana Galvydyte and is currently studying with Ning Kam. Previous competition success include first prize at the Ilona Feher International Violin Competition in Hungary and second prize at the Andrea Postacchini International Violin Competition in Italy, both in 2019, as well as third prize at the Grumiaux International Violin Competition in Belgium in 2018.
Here's a video of her winning performance:
Read: Competitions, Awards and Appointments: July 2021
Watch: María Duenas's prize-winning performance at the 2021 Menuhin Competition