Strings dominated with the top three prizes going to a string quartet and two piano trios, all based in Basel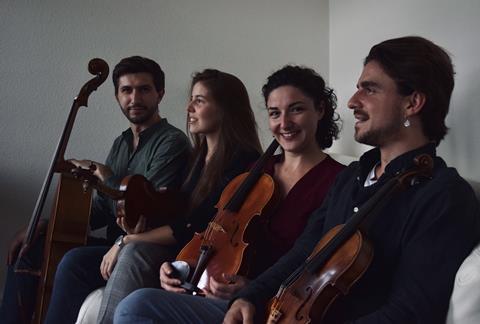 Read more news articles here
The Basel-based Spirea Quartet has won first prize and CHF5,000 (£4,400) at the Orpheus Chamber Music Competition, which took place at the Haute École de Musique de Genève's Neuchâtel campus in Neuchâtel, Switzerland on 20 November. The quartet comprises violinists Nathan Kirzon, Laia Azcona Morsit, violist Lucia Mullor, and cellist Blai Bosser Toca. The competition, which is in its 49th year, welcomes players that are either Swiss, live in Switzerland, or attend a Swiss music university or academy. It is open to mixed ensembles comprising three to nine players.
Second and third prize also went to Basel-based ensembles. Trio Chagall took home second prize and £2,650, while third prize and £1,760 went to Trio Zeitgeist. The former trio consists of violinist Edoardo Grieco, cellist Francesco Massimino and pianist Lorenzo Nguyen Ba, while the latter comprises violinist Tim Crawford, cellist Martin Egidi and pianist Martin Jollet. A further three laureates were also announced: Helix Trio, Quatuor Amapola and Opus Five Quintet.
Alongside their cash prizes, the first, second and third prize winners will premiere commissioned works by up-and-coming Swiss composers at the Swiss Chamber Music Festival in Adelboden, Switzerland, from 8 to 17 September 2023. These commissions and performances are made possible by funding from the Pro Helvetia Foundation. The remaining three laureates will also perform at the festival, which was specially created in 2011 to host concerts by the competition's winners.
The 2022 jury comprised jury chair Reto Bieri, Benjamin Englei, Anna Gebert, Raphael Camenisch, David Pia and Daniel Schädeli.