The Austrian group took first prize of €10,000, in a competition celebrating contemporary chamber music in commemoration of the late cellist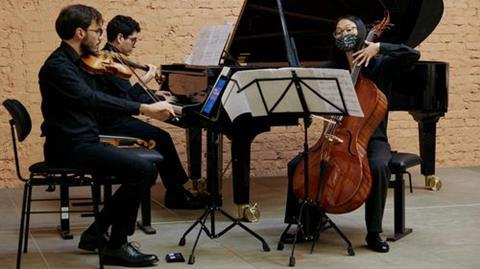 Read more news articles here
The 2022 Boris Pergamenschikow Prize for Contemporary Chamber Music was held on 10 and 11 November Galakutschen-Saal, Hanns Eisler School of Music Berlin.
First prize was awarded to Austrian Ensemble N. Comprising violinist Paolo Vuono,cellist Irini Liu and pianist Luca Lavuri, the ensemble took the top cash prize of €10,000, as well as the special prize for a composition commission worth €3,000. The musicians performed trios by Mikel Urquiza, Clara Iannotta and Salvatore Sciarrino.
Ensemble N was founded in 2018 at the University of Music and Performing Arts Vienna and is dedicated to supporting existing contemporary repertoire, as well as works by young, emerging composers.
Second prize of €4,000 went to Trio Orelon, while third prize of €2,000 went to Trio Glenn Gould. The Percaso Quartet received the sponsorship prize of €2,000.
The jury comprised prof. Gerhard Schulz (Alban Berg Quartet, Vienna), Cathy Milliken (oboe/composer, Berlin) prof. Claudio Bohórquez (cello, Academy of Music Hanns Eisler Berlin) prof. Dr. Ariane Jeßulat (vice president University of the Arts Berlin/ Ensemble Die Maulwerker), Andreas Brenner (Zurich University of the Arts/ ensemble director for new music), Dr. Winrich Hopp (Berlin Music Festival, Berlin Festival) and Andrea Gräfin von Bernstorff (sponsoring association of the university).
Since 2005, the Society of Friends and Sponsors of the University has dedicated the chamber music competition to the cellist and pedagogue Boris Pergamenschikow (1948 - 2004) in order to promote contemporary compositions among the musicians of the younger generation. The competition is held every three years and is open to chamber music ensembles from music academies in Germany, Switzerland and Austria. Instrumentation can range from trio to nonet, with the only requirement being that the composition and ensemble must contain at least one cello. Pieces composed after 1950 must be performed, as well as works performed in a contemporary historical context and in relation to other art genres.
The 2019 edition of the Boris Pergamenschikow Prize was won by Trio Tempestoso.