The Leczky brothers of the Kodály String Duo are calling for new compositions to expand the string duo repertoire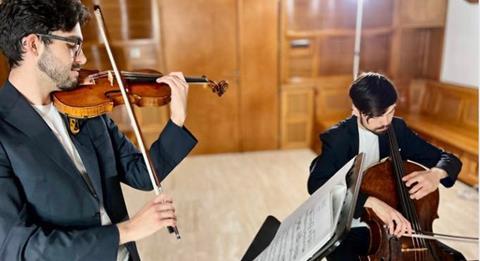 With an aim to generate more repertoire for string duo, violinist Sebastian Leczky and cellist Marcel Leczky have formed the Kodály String Duo Vienna Contemporary programme, calling on composers to send scores for the instrumentation.
The brothers, who were born in Vienna and are of Hungarian descent, have taken their ensemble name from composer Zoltán Kodály, whom they state to be their inspiration due to his support for young musicians, as well as the monumental Duo op.7 for the string duo instrumentation.
Acknowledging the dearth of repertoire for string duo, Sebastian tells The Strad 'We know that the string duo genre was not as popular as the string quartet, but we would like to change that.
'Our main goal is to increase the repertoire to the level of other popular chamber music formations. Hopefully many more string duos will be established. The possibilities of a violin and cello together is huge, as composers of the past, like Kodály, Ravel and Glière have written for this formation.'
Composers interested in submitting scores for the Kodály String Duo's consideration can do so via the Google form here, or email kodalystringduo@gmail.com
Born in 2001, Sebastian is currently studying with violinist Ida Bieler at the University of Music and Performing Arts Graz, where he also attended the Pre-College department under Wladislaw Winokurow. He has also enjoyed musical input from Arkadij Winokurow and Boris Kuschnir. He is winner of the International Vasa Prihoda Competition and since 2019 is supported by the Vienna Philharmonic and Prima la Musica Wien's young artist talent programme.
Marcel was born in 1999 and is currently studying with Kerstin Feltz at the University of Music and Performing Arts Graz. He has participated in masterclasses with several prominent cellists, including Wolfgang Emanuel Schmidt, Jens Peter Maintz, Johannes Moser, Miklós Perényi, István Várdai, Reinhard Latzko, Julian Steckel, Emilio Colon and Zlatomir Fung with a special invitation at the Kronberg Academy. He plays on a 1750 Testore cello.
Watch the brothers perform the essential piece for string duo: Kodály's Duo op.7: