The culmination of the week-long professional development programme will be broadcast for free on Facebook and YouTube on 13 and 14 August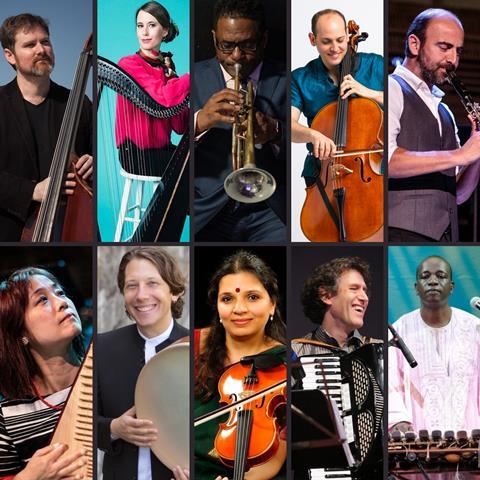 Silkroad and New England Conservatory will open its Global Musician Workshop online festival to the general public on 13 and 14 August.
The festival will feature performances of an array of styles and instruments from around the world played by a diverse group of Global Musician Workshop participants, faculty, alumni, and guest artists including singer-songwriter and Silkroad's Artistic Director Rhiannon Giddens, Beninese-American singer-songwriter Angélique Kidjo, hip hop duo Black Violin, composer and ukulele virtuoso Jake Shimabukuro, and musician and rapper Speech.
The online festival will mark the end of a week-long Global Musician Workshop professional development programme running from 8 - 14 August. Directed by cellist and Silkroad artist Mike Block, it will involve group workshops, play-along jam sessions, panel discussions, unique topic-based elective classes, all representing a wide range of backgrounds and traditions from around the world.
The free online festival will be broadcast at 8pm ET on 13 and 14 August on Silkroad's Facebook and YouTube pages.
Read: Rhiannon Giddens named artistic director of Silkroad
Read: Yo-Yo Ma's Silkroad receives largest gift in its 21-year history
Read: BBC Proms 2021 lineup announced
Read: Wigmore Hall returns to full programming for 2021-22 season