The fiddle player, banjoist and singer is the first single person to hold the role since Yo-Yo Ma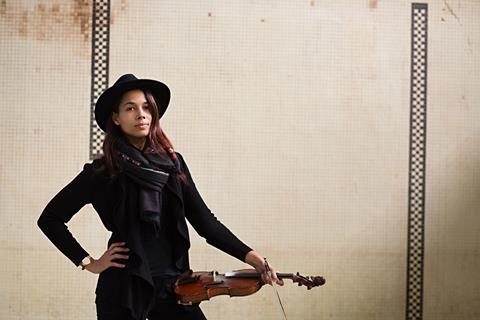 The US singer-songwriter and multi-instrumentalist Rhiannon Giddens has been appointed the next artistic director of Silkroad, the organisation founded by Yo-Yo Ma in 1998 to promote collaboration among artists and institutions, as well as multicultural artistic exchange. Giddens, 43, is a singer and multi-instrumentalist, performing on the banjo and fiddle, and received a MacArthur Genius Grant in 2017 for 'enhancing our musical present with a wealth of sounds and textures from the past'.
Giddens is the first 'sole' artist to occupy the position since Yo-Yo Ma stepped down as artistic director in 2017. Since then the role has been taken by Nicholas Cords, Jeffrey Beecher, and Shane Shanahan in a co-artistic direction model from 2017-2020 (Beecher from 2017-2019). Silkroad's executive director Kathy Fletcher commented that Giddens 'fosters an immense social consciousness and creates unity through her art. These are goals for which we consistently strive in our own performances and education initiatives. I am eager to join forces with Rhiannon to expand the social impact mission that is so crucial to Silkroad, as well as to design and present programs that will delight our audiences in the United States and abroad.'
Watch: The Silk Road Ensemble performs Arabian Waltz
Read: Yo-Yo Ma steps down from Silkroad Ensemble
Watch: Silkroad Ensemble performs Kinan Azmeh's 'Wedding' at Tanglewood
Giddens is the co-founder of the Carolina Chocolate Drops, an old-time string band that received a Grammy Award in 2010. She was Grammy-nominated for her solo album Tomorrow Is My Turn, and for her EP Factory Girl — both of which were released on her label Nonesuch Records. She also performed for the Obamas at the White House and acted in two seasons of the TV series Nashville. In 2019 she created the group Our Native Daughters, and produced and performed on their album, Songs of Our Native Daughters, which tells stories of historic black womanhood and survival. That same year, her collaboration with Francesco Turrisi, there is no Other, offered a condemnation of 'othering' and a celebration of the spread of ideas, connectivity, and shared experience. Giddens was recently commissioned to compose an opera based on the autobiography of Omar Ibn Said, an enslaved Muslim-American man who was brought to Charleston in 1807. The work is sccheduled to premiere at the Spoleto Festival USA in 2021.
'Rhiannon is an extraordinary human being and musician,' said Yo-Yo Ma. 'She lives Silkroad's values, at once rooted in history and its many musics, and is an advocate for the contemporary voices that can move us to work together for a better world. I look forward to joining Rhiannon and our Silkroad colleagues as we continue this journey together.'