The cellist and composer shares how participating in the annual workshop made for a musically enriching experience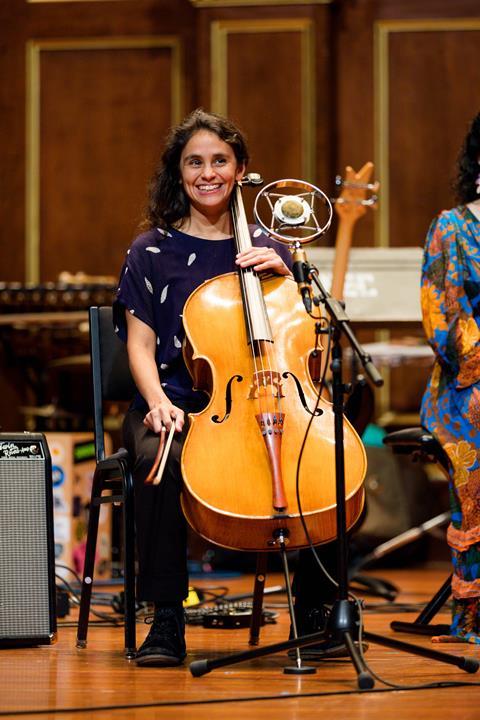 Discover more Featured Stories like this in The Strad Playing Hub
I began playing the cello in eighth grade. Even though I didn't grow up around musicians, I did grow up listening and singing along to music ranging from R&B and grunge rock, to Afro-Cuban and salsa music at my grandparents' house. It was when I started playing cello that I was introduced to Western classical music. The cello opened a whole new world for me and I loved it. In high school I started going to the public library in search of more music to listen to. I would go to the instrumental music sections and pull out any CD that caught my eye, bringing home a collection of recordings that ranged from Schubert, John Cage, Mongolian throat singing to Romanian folk songs. To my teenage ears it was all new and all connected. During these years improvising, composing, and learning by ear were all a big part of my playing alongside studying Western classical cello repertoire.
When I arrived at college for a Bachelor of Music in cello performance, I had the experience of my musical world both narrowing, and deepening. With all my attention shifted to solo cello, chamber and orchestral music, I left behind my days of wide music exploration and improvisation in order to focus on my growth as a classical cellist. I continued listening to music of many genres and traditions but rarely played anything other than classical music. I learnt and grew a lot in this time but by the time I finished my undergraduate studies, I felt musically incomplete. I didn't know exactly what I needed, but I knew that a solely classical path wasn't for me. In the two years between my time at DePaul University and going to Manhattan School of Music for the Contemporary Performance Program, I moved from Chicago to New York City. I began primarily playing contemporary classical chamber music, exploring free improvisation and performing with various songwriters and bands. During this time I excitedly began to play with musicians from many backgrounds and musical traditions for the first time in various ensembles and I began to sing and write songs. As I followed the joy, connection and inspiration I got in these projects, the trajectory of my musical path began to shift and unfold.
One Sunday morning during grad school, a professor called and asked if I would turn pages for Yo-Yo Ma that evening. It was an easy yes. I found myself inspired not only by seeing Yo-Yo's musicianship up close, but by his warm-hearted and welcoming personality. That day, he told me about the Silkroad Ensemble and invited me to an upcoming performance at Lincoln Center. It was 2009 when I saw them for the first time. Hearing these masterful musicians collaborate across musical languages blew my mind and planted musical seeds of possibility that have continued to inspire me. Since then I've heard the Silkroad Ensemble many times and deeply admire the music these musicians create.
When I found out about Silkroad's Global Musician Workshop (GMW) last summer from a friend and violinist who had attended, I knew right away it was a place I wanted to be - both for the opportunity to learn from and play with members of the Silkroad Ensemble and to be among like-minded musicians.
This year, GMW was a week-long intensive programme with nine masterful faculty artists and 70 participants from 25 different countries. From the moment I arrived, the staff were so warm and welcoming. Many participants, including myself, arrived the night before the first day. That night kicked off what became hours of jamming every night with openness and connection between participants as we listened and shared in the art of spontaneous music making. These nightly jam sessions moving through countless genres and musical traditions were like icing on the cake of every very rich day.
Throughout the week we attended community meetings with each faculty member, learning about their musical journeys; band rehearsals; faculty workshops; electives led by fellow participants sharing their respective musical traditions and backgrounds; and a folk dancing class. Every participant was placed in three faculty-led bands with unique instrumentations and each band performed once. There was an amazing marathon of concerts for five nights, first featuring faculty collaborations, followed by four participant concerts where we performed alongside the faculty. The concerts were thrilling, full of new sounds and musical combinations. I was moved to tears every night by the beauty, joy, range of expression in everyone's playing, and by the overflowing support the participants had in cheering one another on. Having the opportunity to hear each musician perform in completely different bands night after night was incredibly inspiring, and a unique opportunity.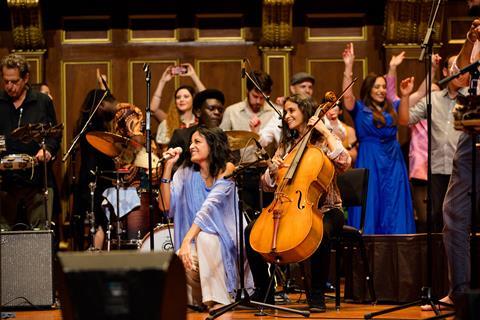 GMW is not only a deeply enriching musical experience - I left with a palpable feeling of warmth, shared humanity and friendship that filled me to the brim. The days were wonderfully full and we were pleasantly sleep deprived, running on a collective buzz of music and joy that filled the halls of New England Conservatory. This isn't to say the week didn't also have its challenges, but as Mike Block said on the first day: 'if you find yourself feeling uncomfortable remember you chose to be here'.
At points throughout the week, this programme stretched us, as musicians, artists and human beings. It was also those moments of growth that brought everyone together so quickly. We were all learning new musical languages, and discovering new ways to play our instruments or sing. I'm still processing the chance to hear so many fantastic musicians and have countless enriching conversations in one place moment after moment, for days on end. My time at GMW felt like an affirmation of music's power to connect people, to communicate and listen in the deepest ways while sharing music boundlessly. For me, this experience of collaborative music making is exactly what I've been looking for and GMW felt like being home. This is something I will carry into all my music making, performing and teaching.
Silkroad's Global Musician Workshop took place from 6 to 12 August 2023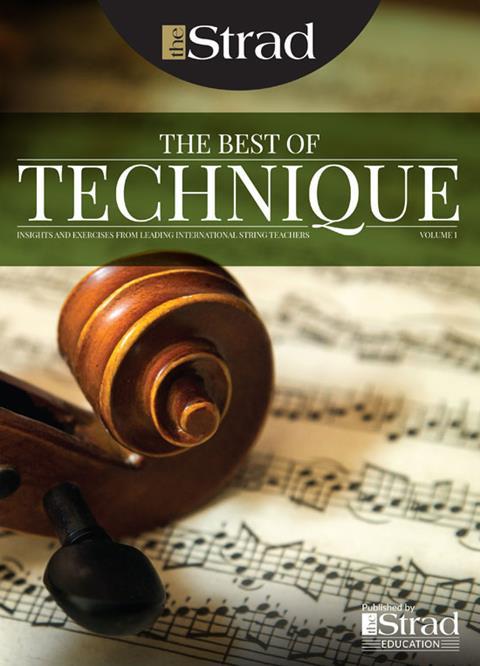 In The Best of Technique you'll discover the top playing tips of the world's leading string players and teachers. It's packed full of exercises for students, plus examples from the standard repertoire to show you how to integrate the technique into your playing.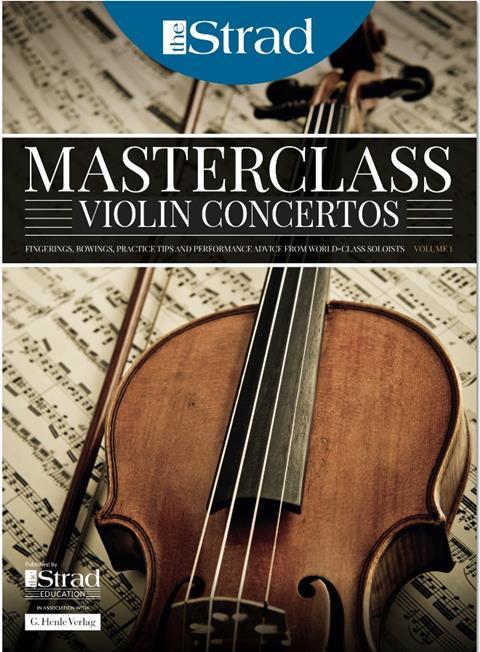 The Strad's Masterclass series brings together the finest string players with some of the greatest string works ever written. Always one of our most popular sections, Masterclass has been an invaluable aid to aspiring soloists, chamber musicians and string teachers since the 1990s.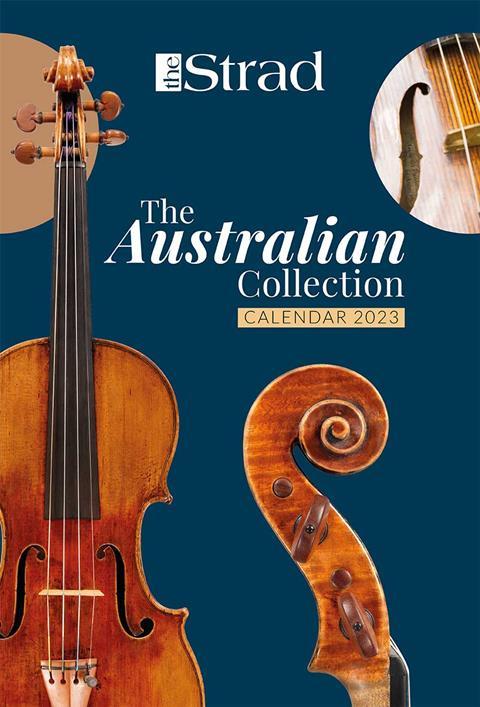 This year's calendar celebrates the top instruments played by members of the Australian Chamber Orchestra, Melbourne Symphony, Australian String Quartet and some of the country's greatest soloists.