Musician is the first cellist to break into the Top 10 and the first British classical instrumentalist in 30 years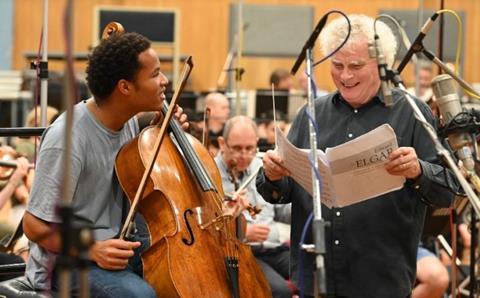 Cellist Sheku Kanneh-Mason recording the Elgar Concerto with Simon Rattle
Sheku Kanneh-Mason has become the first cellist and only the second British classical musician to enter the Top 10 of the UK Official Album Chart, after his second album, Elgar, entered at Number 8 when it was released on 10 January.
The Decca Classics recording, for which Kanneh-Mason was joined by the London Symphony Orchestra conducted by Simon Rattle, also made Number 1 on this week's Official Classical Albums Chart.
The achievement makes Kanneh-Mason the highest-charting cellist in British chart history, and the first classical musician since Nigel Kennedy to make the Top 10. Kennedy's landmark recording of Vivaldi's Four Seasons with the English Chamber Orchestra reached Number 3 when it was released in 1989, and remains the best-selling classical music recording of all time.
Alongside Elgar's Cello Concerto, the recording also features music by Frank Bridge, Ernest Bloch, Julius Klengel and Fauré. It was made at Abbey Road Studios, opened by Elgar in 1931.
Speaking of his success, Kanneh-Mason said: 'I am so excited that my album is in the Top 10. Thank you, Edward Elgar, for writing such a fantastic piece of music. And thank you to Sir Simon Rattle and all the other great artists who feature on the recording too.'
The 20-year-old musician, who studies at the Royal Academy of Music in London, was named an MBE in the New Year's Honours list. His previous recording, Inspiration, reached Number 11 in the UK Album Chart.
Read: Sheku Kanneh-Mason appointed MBE for services to music
Watch: Sheku Kanneh-Mason records the Elgar Cello Concerto at Abbey Road Studios
Read: Sheku Kanneh-Mason returns with new Elgar album
Interviewed for The Strad January 2020 issue, Kanneh-Mason explained how, among the many interpretations of the Elgar Cello Concerto, a film of Jacqueline du Pré performing the piece with Daniel Barenboim and the Philharmonia Orchestra prompted him to start learning it:
'That recording definitely had a massive impact on me: when I was seven or eight I got the sheet music and tried to play it like her – even before I could play the cello properly myself! I thought it was incredible how she managed to put so much meaning into every single note – I felt really, really moved and understood all the emotions.
'It's a very personal piece of music, and I always felt as though it's a piece the composer wrote about himself, rather than trying to tell the story of another person's feelings. That's why the emotions feel direct and real when you play it – it contains so many colours, themes and characters. When I first heard the piece, of course I didn't know the context of Elgar's life and the time he was writing – the sadness, confusion and loss of the First World War, for example – but I was immediately able to understand the emotions he was portraying. It was a piece that always moved me.'