Cellist Sheku Kanneh-Mason is to release his new album, Elgar, in January 2020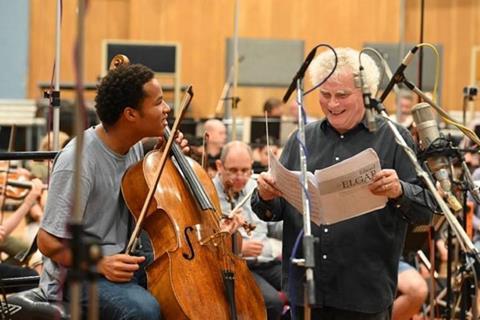 Sheku Kanneh-Mason is to release his new album, Elgar, on Decca Classics on 10 January 2020. The 20-year-old cellist performs Elgar's Cello Concerto as well a collection of works centered around it in the album, which also features the London Symphony Orchestra conducted by Sir Simon Rattle. It was recorded in June 2019 at London's Abbey Road studios.
In The Strad's January 2020 issue, Kanneh-Mason reflects on his early memories of Elgar's concerto: 'I remember when I was growing up, watching the video of Jacqueline du Pré performing the Elgar Cello Concerto with Daniel Barenboim and the Philharmonia Orchestra. I saw it over and over again and I've never felt so inspired.'
He continues: 'When we went on long car journeys, my parents would usually put on one of three recordings: Rachmaninov's Second Piano Concerto; the Beethoven Violin Concerto with Itzhak Perlman; or the Elgar with Jacqueline du Pré. It definitely had a massive impact on me: when I was seven or eight I got the sheet music and tried to play it like her – even before I could play the cello properly myself! It was incredible how she managed to put so much meaning into every single note – I felt really, really moved and understood all the emotions because it's written so directly.'
The new album also includes a new arrangement of Elgar's 'Nimrod' from his Enigma Variations as well as new recordings of works by Julius Klengel, Gabriel Fauré and Ernst Bloch.
Images of Sheku are being projected in Sydney, New York, Beijing and London to celebrate the launch of the album, available for pre-order now on Apple Music.
See below for the video of Jacqueline du Pré that inspired Sheku Kanneh-Mason.