The members of the ensemble will coach and perform with students as part of their new role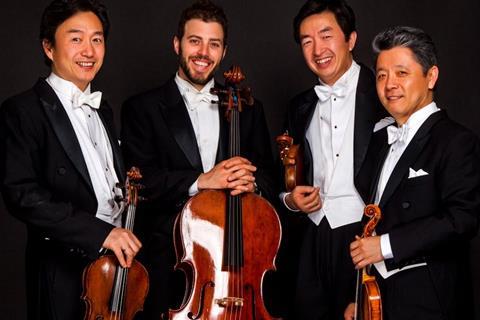 The members of the Shanghai Quartet have been appointed as resident faculty at the Tianjin Juilliard School - Juilliard's new school in China - effective from autumn 2020. In the role, they will coach chamber music students and give individual lessons to graduate students in Tianjin. They will also perform with students majoring in chamber music as well as with other resident faculty members from The Tianjin Juilliard School.
Consisting of violinists Weigang Li and Yi-Wen Jiang, violist Honggang Li and cellist Nicholas Tzavaras, the Shanghai Quartet is known for traversing musical genres including traditional Chinese folk music, Western classical repertoire and contemporary works. Formed at the Shanghai Conservatory in 1983, the Quartet regularly tours the major music centres of Europe, North America and Asia. Recent festival performances include the International Music Festivals of Seoul and Beijing, the Festival Pablo Casals in France and the Beethoven Festival in Poland, as well as numerous concerts in all regions of North America. The Quartet is Quartet-in-Residence at the John J. Cali School of Music at Montclair State University in New Jersey, a position they have held since 2002.
On their new appointment, Wei He, dean and artistic director of the Tianjin Juilliard School, said 'We are thrilled to have members of the Shanghai Quartet join the resident faculty of the school. They are brilliant musicians and inspiring educators who will propel Tianjin Juilliard into the center of chamber music education in China, East Asia, and beyond.'
The Shanghai Quartet's cellist Nicholas Tzavaras said, 'All of us in the Quartet are extremely excited to join the resident faculty of The Tianjin Juilliard School and continue to bring chamber music to the forefront of music education in China. We look forward to working with the inaugural class of chamber music graduate students in 2020, and developing wonderful musical collaborations with our colleagues at The Tianjin Juilliard School."
Welcoming its inaugural class of students this autumn, the Tianjin Juilliard School will be the first performing arts institution in China to award a U.S.-accredited Master of Music degree. It offers a graduate programme for a Master of Music degree from Juilliard in orchestral studies, chamber music, or collaborative piano; a Pre-College programme for students ages 8-18; an instrumental training programme; adult education; and public performances.