The music institution's first campus outside of New York will offer a US accredited master's degree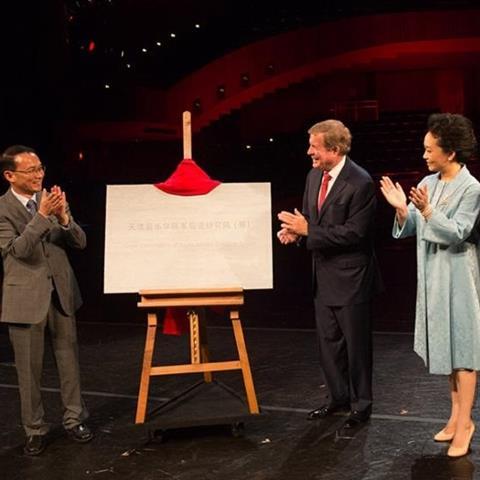 New York's Juilliard School is a step closer to opening a new Chinese campus, following preliminary approval from the Chinese government. The Tianjin Juilliard School will offer a US accredited master's degree – the first for any performing arts institution in China.
Yesterday Juilliard president Joseph Polisi announced plans for the new institution, due to open in 2018, in the presence of the First Lady of China, Peng Liyuan.
Pending final approval from China's Ministry of Education, Juilliard and its partners – the Tianjin Conservatory of Music, the Tianjin Binhai New Area CBD Administrative Commission, and the Tianjin Innovative Finance Investment Company – plan to offer a graduate programme in orchestral performance, chamber music performance and collaborative piano; a pre-college programme; an instrumental training programme; adult education; and public performances and exhibits.
Prior to opening, members of Juilliard's New York faculty will also give masterclasses and performances at the Tianjin Conservatory of Music and at other Chinese conservatories up to eight times per year.
'I believe that maintaining Juilliard's prominence in the global performing arts landscape will depend on a robust series of programmes to engage with a wide range of learners in different parts of the world,' said Polisi. 'Together with the roots we will build in Tianjin, our educational apps for the consumer market, our programme for primary and secondary school students, and future digital products are all part of this strategy. All of these programmes are structured in a way that not only will preserve, support, and enhance the world-class performing arts education that Juilliard offers in New York, but provide new kinds of work for our alumni, build communities of support around the world, open access to new pools of talent, and position Juilliard as a leader in global performing arts education.'
Juilliard's new China facility is to be designed by Diller Scofidio + Renfro, the same firm responsible for the 2006-2009 expansion of Juilliard's New York premises.
Watch China's First Lady, an accomplished soprano, visit The Juilliard School in New York - and sing herself, following a performance of a traditional Chinese song by a Juilliard student.
Photo: Juilliard President Joseph Polisi presents a plaque commemorating the announcement of The Tianjin Juilliard School © Rosalie O'Connor