Yi-Wen Jiang is suing the Shanghai Quartet and Montclair State University, where the quartet is resident, following a comment on social media earlier this year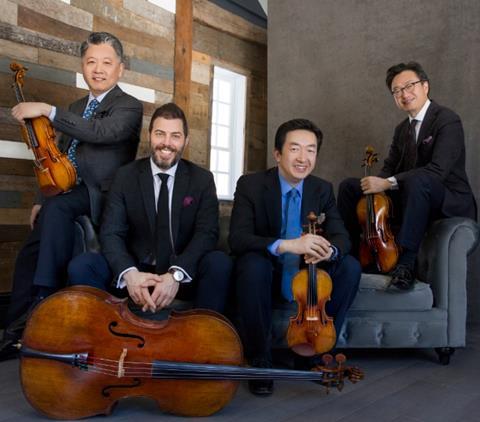 Chinese violinist Yi-Wen Jiang is suing his former Shanghai Quartet colleagues and Montclair State University in New Jersey, where the quartet is resident, for unfair dismissal.
In March of this year, Jiang posted a comment on the Chinese social media platform WeChat in response to a post by San Francisco Symphony associate principal viola Yun Jie Liu. Jiang's comment, which went viral, was denounced by some Chinese media outlets as 'racist' and led to a parting of the ways between Jiang and his fellow Shanghai Quartet members.
Following the incident, the Shanghai Quartet published a statement on its website and Facebook page: 'Effective immediately, the Shanghai Quartet has accepted the resignation of violinist Yi-Wen Jiang. We begin the search for his replacement and look forward to sharing the next chapter of community and music with you soon.'
China's Global Times and Beijing Daily subsequently reported that the Tianjin Juilliard School, where the Shanghai Quartet is a member of the faculty, had terminated his contract. These outlets also reported that Jiang had apologised to the Chinese people for his post.
Read: Musical emissaries: The Shanghai Quartet
Read: Shanghai Quartet appointed to faculty of Tianjin Juilliard School
However, Jiang's lawsuit, filed in Morris Superior Court this week, claims that the Shanghai Quartet and Montclair State University forced him to resign, following a targeted propaganda campaign by the Chinese government. According to northjersey.com he is seeking damages of $500,000, equivalent to buying a 25 per cent share in the group.
The Shanghai Quartet has responded to the lawsuit with the following statement:
'In March, the Shanghai Quartet collectively accepted the voluntary resignation of violinist Yi-Wen Jiang. Then as now, we regret that our former member, Mr. Jiang, has chosen, through his words and actions to put the reputation and success of the Shanghai Quartet at risk. The lawsuit is without merit and fanciful. Our audience is important to us, and enjoying deep musical experiences with them is our priority and focus. We look forward to continuing to share music with our fans around the world, and we thank them for their continuing support.'