13 international contestants will perform for the chance to scoop the first prize of $100,000 in the finals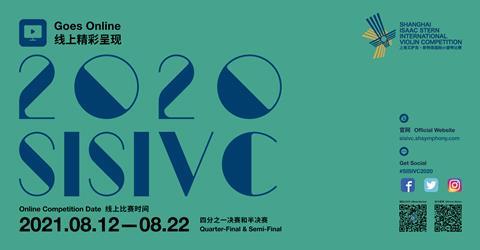 13 semi-finalists have been announced for the postponed 2020 Shanghai Isaac Stern International Violin Competition (SISIVC). The semi-finals will take place on 18, 19, 20 and 21 August 2021 with the finalists announced on 22 August. Contestants will perform a sonata and virtuosic piece in the first section, followed by a Mozart concerto with piano accompaniment.
Performances will be streamed on the SISIVC YouTube and Facebook pages.
The semi-finalists, in performance order, are:
Yue Qian | China
Jingzhi Zhang | China
Rino Yoshimoto | Japan
Katherine Woo | United States
Thomas Lefort | France
Marie Bégin | Canada
William Lee | Taiwan, China
Ruifeng Lin | China
Felicitas Schiffner | Germany
KayCee Galano | Philippines
Charlie Lovell-Jones | United Kingdom
Angela Sin Ying Chan | Hong Kong, China
Shannon Lee | United States
Established in 2015, the SISIVC is renowned for demanding a large amount of repertoire and high level of difficulty and intensity from contestants. First prize winner will be awarded $100,000 USD, with additional prizes on offer such as the Best Chinese Work Performance Award, as well as the special prize Isaac Stern Human Spirit Award.
Read: Hair's breadth: postcard from the Shanghai Isaac Stern Violin Competition
Read: Nancy Zhou wins Shanghai Isaac Stern International Violin Competition 2018
Read: Postponed Shanghai Isaac Stern International Violin Competition to return this autumn