Event in Copenhagen puts five quartets through to second round taking place on Friday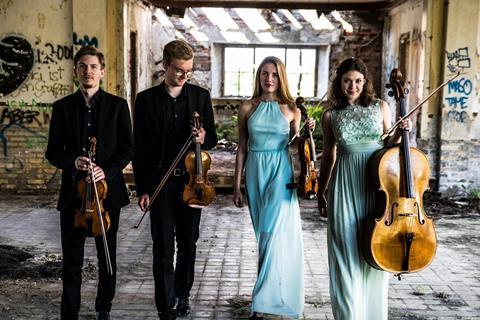 The Carl Nielsen International Chamber Music Competition in Copenhagen has named the quartets which will play in its semi-final round, following a first round in which they were called on to perform a Haydn quartet plust two movements from a Carl Nielsen quartet.
The five semi-finalist ensembles are:
Simply Quartet (Austria)
Gyldfeldt Quartett (Germany)
NOVO Quartet (Denmark)
Balourdet String Quartet (Texas)
Quatuor Elmire (France)
They will next perform on Friday 18 October in the chamber music hall of the Royal Library's waterfront annexe 'The Black Diamond'. Each will play the commissioned work by Matias Vestergård Hansen; their choice of a quartet by Brahms, Schumann, Mendelssohn, Dvorák, Smetana, Grieg or Sibelius; plus a further complete quartet chosen from those by Debussy, Ravel, Bartók, Shostakovich, Langgaard (quartet nos. 2 or 3), or Holmboe (quartets nos. 2 or 8).
They compete for cash prizes, including a first prize of €15,000, and future engagements.
All rounds, plust those of the parallel wind quintet competition, are being live streamed live on the competition website with a live blog and commentary by journalist and regular Strad contributor Andrew Mellor.
The competition jury is chaired by Alban Berg Quartet violinist Günter Pichler. The jurors are Asbjørn Nørgaard (violist, Danish String Quartet), Gunvor Sihm (violinist, Nightingale String Quartet & Danish National Symphony Orchestra), Bjørg Lewis (cellist, Vertavo String Quartet), David Geber (former cellist of the American String Quartet, 1974-2002).
The winner of the quartet section of the inaugural competition in 2015 was the Arod Quartet, which went on to further competition success and featured on the cover of the February 2018 issue of The Strad.
Watch: the complete first-round performances of the semi-finalist quartets