The young French players of the Arod Quartet have enjoyed rapid career success, helped in no small part by their mentor, former Ébène Quartet violist Mathieu Herzog. But being an effective 21st-century chamber musician is about much more than first-rate playing, as Charlotte Gardner discovers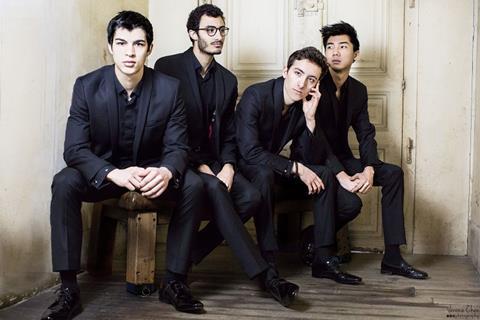 This is an extract from a longer article in The Strad's February 2018 issue. To read further, download now on desktop computer or via the The Strad App, or buy the print edition
During the period leading up to a career-changing win at the 2016 ARD International Music Competition in September 2016, the Arod story became really interesting. Experimentation was replaced suddenly by an extraordinarily pragmatic strategy that comprehensively debunks the idea that string quartet success simply 'happens' through some indefinable, magical chemistry. That strategy began with the realisation that the group now needed external help and guidance. To find it, the players went straight to the top – to conductor and former Ébène Quartet violist Mathieu Herzog.
They also hired psychological coach Edouard Brault, who travelled to Munich with them for the ARD. 'He hasn't worked with many musicians,' says cellist Samy Rachid, 'but he's helped a lot of Hollywood actors and sportspeople and, for us, performing in a string quartet is like participating in very high-level sport. It's really physical on stage, especially tiring when you're travelling, and competitions are very stressful.'
---
Watch: The Arod Quartet play Mendelssohn String Quartet op.13 in A Minor - Adagio
---
Despite the rapid rise, it hasn't all been a bed of roses for the ensemble – in fact, quick success brought a good deal of pressure. 'We suddenly had to face two different challenges at once,' explains Rachid. 'Not only did we have to be a good quartet, musically speaking, but also we had to be professionals.
'Now we've learnt how to find time to rest, to work and to prepare our scores together, but it took a while to get that balance right.' The four also weren't prepared for the intensity of being in each other's constant company. 'This summer, for instance, we were together every day for three months,' says Victoria. 'We were only alone at night, and it was hard. So again, to have Mathieu's guidance was wonderful, because although our relationship with him has the distance and respect of teacher and students, we can call him when we've had an argument and talk it through.'
Herzog sees this emotional support as a crucial aspect of his duty of care. 'The life of a string quartet is very strange,' he emphasises.
To see the full article, download The Strad's February 2018 issue on desktop computer or via the The Strad App, or buy the print edition