As the group celebrates its 45th year, Richard O'Neill will take over from Geraldine Walther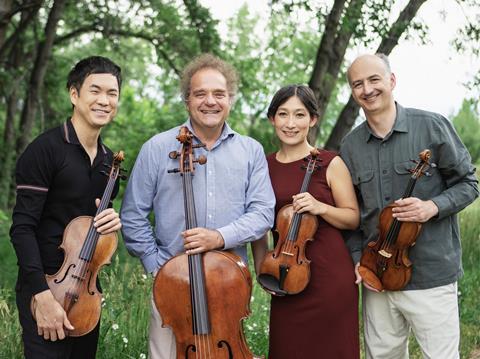 Richard O'Neill, far left, with András Fejér, Harumi Rhodes and Edward Dusinberre. Photo: Amanda Tipton


The Takács Quartet, founded in Budapest in 1975 but based in Boulder, Colorado since 1983, has revealed that violist Geraldine Walther is retiring after 15 years in the alto chair, to be succeeded by Korean-American violist Richard O'Neill (known also as Richard Yongjae O'Neill).
Cellist András Fejér has been the only remaining founding member of the quartet since the 2018 departure of second violinist Károly Schranz, who was replaced by Harumi Rhodes. The group is completed with first violinist Edward Dusinberre who replaced founder Gábor Takács-Nagy in 1994.
In a statement released by the quartet, Richard O'Neill said: 'Joining the Takács Quartet is the greatest honor of my life. I am thrilled to follow in the footsteps of one of my heroes, the great Geraldine Walther, whom I have listened to and adored since I was a child. I look forward to the joy of making music with Ed, Harumi and András and will do my best to uphold the esteemed tradition of the Takács Quartet.'
Geraldine Walther, known as Geri, commented: 'I have loved being a member of the Takács Quartet and am grateful for all the friends I've made along the way. I am very happy to hand the baton over to the wonderful violist and musician, Richard O'Neill, and wish the group every success for their future together!'
As a soloist O'Neill has made ten albums, including a series for Deutsche Grammophon, and appeared with orchestras across the world. As a chamber musician he has performed on many recordings, was founder and artistic director of the Korea-based Ensemble DITTO for 13 seasons, as well as Artist of the Chamber Music Society of Lincoln Center and Principal Violist of Camerata Pacifica.