Cellist Abel Selaocoe and violist Tabea Zimmermann will make numerous appearances in the ensemble's upcoming season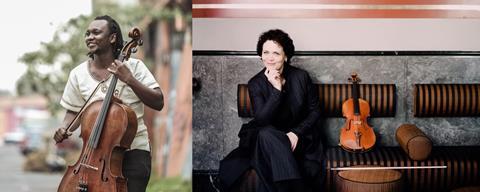 Within the space of a few days, Minnesota's Saint Paul Chamber Orchestra (SPCO) has added two top string players to its roster of artistic partners. Artistic partners will develop distinctive multi-year programming plans in collaboration with a committee of SPCO musicians and management.
'I am beyond excited to be taking up an Artistic Partnership with the SPCO,' commented South African cellist Abel Selaocoe. 'The wonderful thing about this collaboration is that it is based on curiosity, a high level of creativity, playing around with the unknown and really celebrating the known. Each concert will have an essence that reflects society or brings a message of well-being for the community. This is a very exciting venture for me and I'm so grateful for it .'
Selaocoe made his debut with the SPCO in March 2022, in a collaborative performance that involved musicians and audience members dancing and singing on and off stage. He is due to release his debut album with Warner Classics Where Is Home (Hae Ke Kae) in September 2022.
German violist Tabea Zimmermann said, 'I am happily looking forward to the artistic partnership with the SPCO and feel very honored to continue in the impressive line of current and former artistic partners.
'We shall thrive for a maximum range of differentiation in music and will let the musical themes guide us to find a liberating answer to the ever-demanding question of individual versus group interests. For me, classical music offers the most beautiful key to life, and I am more than excited to share my sound visions with the musicians and the audience of the SPCO' she concluded.
Zimmerman made her SPCO debut in 2019, leading the orchestra from the viola chair in Beethoven'sSymphony no.1 as well as performing her own transcription for viola of Robert Schumann's Cello Concerto. Her debut performance inspired musicians of the SPCO to offer her an artistic partnership.
Zimmermann will begin her tenure with two weeks of concerts in the spring of 2023 that will include works by Fanny Mendelssohn-Hensel, Felix Mendelssohn, Johannes Brahms and Béla Bartók.