For Tabea Zimmermann, 2020 represents a new flowering in her musical life. Amanda Holloway speaks to the German violist about directing her final Beethoven-Woche, her new recording projects, expanding the viola repertoire and imparting her wisdom to the next generation
She is known worldwide as a virtuosic soloist, a generous chamber musician, a revered teacher and a tireless promoter of classical music. But the 2019–20 season may be Tabea Zimmermann's most illustrious year yet, as she directs a major Beethoven celebration in Bonn, appears as artist-in-residence with the Royal Concertgebouw Orchestra, Amsterdam, and releases a variety of new recordings – from solo Bach and György Kurtág to music by Spanish and South American composers. In recognition of her quiet but powerful influence on the world of music, she has just won the €250,000 Ernst von Siemens Music Prize, whose previous winners have included Menuhin and Stockhausen. Zimmermann is the first viola player and only the third female to win the award in its 47-year history. Naturally, she says, she is delighted with the prize, but not so much with the 'woman' angle. 'Of course, that's an important fact, but I don't want to be given a prize for being a woman!' There's no hint of tokenism in the glowing citation from the judges, who singled out 'her incorruptible musicianship… her uncompromising standards of quality, the new life she has breathed into the viola… her dedication to contemporary music… and her incredible contribution to education'.
This paragon of music is actually a warm, straightforward woman with a quick sense of humour and a refreshing scepticism about aspects of the music world. In her last year as president of Bonn's Beethoven-Haus and artistic director of its Beethoven-Woche, Zimmermann is presiding over an extended edition of the chamber festival (17 January–9 February 2020) to mark the composer's 250th birthday. With just a week to go before the end of the festival, we meet in the Collegium Leoninum, Bonn, a historic convent building that now doubles as a hotel and a retirement home. For Zimmermann, the sense of calm and community created by the mingling of guests and residents is preferable to the impersonal blandness of a conference hotel.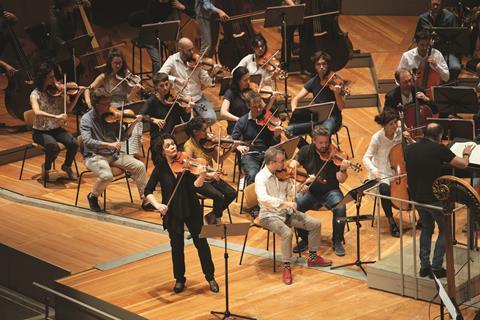 She is remarkably bright-eyed and bushy-tailed for a person in charge of an international festival, but having spent six years as artistic director she's supported by an efficient team and a devoted audience, some of whom come to every one of the 16 concerts this year. Not one for public speaking, she concentrates on the artists and the music. 'For me, it's easier to learn a new viola concerto than to sit down and write a three-minute speech!' she says. 'With the viola in my hand, I feel stronger. I won't make speeches to the audience, but give me a viola and I'll be all right.'
Last night, she slipped on to the stage without fanfare to join the young Armida Quartet in Beethoven's dramatic, colourful String Quintet in C major op.29. It is one of the many unfamiliar works that she has come across in the years she's been programming the festival. 'I've got to know and like Beethoven much better, and I will take with me a lot of ideas for my performances not just of Beethoven but also of other composers.' Apart from a lovely moment in the second theme of the third movement of the quintet, when she emerged as a countervoice to the two violins, Zimmermann blended seamlessly into the musical texture. As the ensemble left the stage she shared a joke with the viola player, her former student Teresa Schwamm.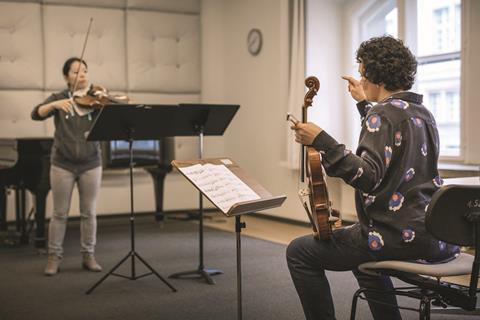 Whenever she talks about music Zimmermann lights up. Her life is crammed with responsibilities that tug her in different directions: a solo and recital schedule that takes her around the world, teaching duties at two conservatoires and three children to care for. But music makes it all worthwhile. 'I do often work hard; I get up early and go to bed late. But my life is very much centred around music and I just love it. When I come back from a tour I feel I have to make up for missed teaching days, and it's sometimes very tiring – but then we start discussing music and I'm all on fire and up again!'
The Ernst von Siemens Music Prize is often awarded at the end of a long and distinguished career, but at 53, Zimmermann is enjoying a new flowering in her musical life, as she explains: 'I've gone through many stages. Having started everything very young, and having a nice career, I then had my children and had to reduce things. I was balancing playing, teaching and my children – they were important years, but there were difficult moments. Now my children are 21, 18 and 16 and I feel new energy to do whatever I've wanted to focus on. So the timing of this prize is wonderful – it gives a push to things I'm still doing, and it doesn't come at the end of a career, when you can't play any more.'
'Making up for missed teaching days is sometimes very tiring - but then we start discussing music and I'm all on fire again'
Her diary is full after Beethoven-Woche, with a mixture of solo performances and chamber concerts, including trios with her former Arcanto Quartet colleagues violinist Daniel Sepec and cellist Jean-Guihen Queyras. The Arcanto, which she co-founded in 2002 with Antje Weithaas, Sepec and Queyras, performed and recorded for 14 'important' years, says Zimmermann, but finally their geographical differences, the stress of touring and their different priorities became difficult to square and the group disbanded in 2016.
Her orchestral projects cover everything from period-instrument Berlioz to cosmic 21st-century Georges Lentz. In a rare performance among the violas of the Berlin Philharmonic in 2002 (recorded for Deutsche Grammophon), she enjoyed playing the viola solo in Strauss's Don Quixote. 'I played in the orchestra while Mischa Maisky performed the Dvořák Cello Concerto, and then I did the Strauss as it was meant to be, coming out of the orchestra.' Last year she revisited Don Quixote with François-Xavier Roth and the Gürzenich Orchestra, and Queyras as the cello soloist. That recording will be released on Harmonia Mundi in October.
'I have difficulty with Strauss as a person, but Don Quixote is a beautiful score,' she says. 'It's so well composed – each character has its own thematic material, so it's fun to do.' The joy of being able to play with a range of orchestral sounds is a theme that comes up often in our conversation. 'If your aim is simply to be a viola player, the instrument can be quite limiting, whereas if you want to be a musician, you can take sounds from many different sources and reproduce them on the viola. Then you get a much wider palette.'
More than any other violist, Zimmermann has boosted the repertoire for her instrument, inspiring composers including Ligeti, Heinz Holliger, Wolfgang Rihm and Enno Poppe to write for her. And she boldly adopts music written for other instruments. 'I'm more and more interested in arranging things – last year I did Reger's op.107 Clarinet Sonata (already arranged for the viola by the composer). I've also performed my own arrangements of the Chopin Cello Sonata and the Schumann Cello Concerto – we don't have a Schumann viola concerto, and it's such fantastic music.' She can coax the warmth and depth of a cello out of her viola, just as she can capture the airy sweetness of any violin sonata by Franck or Schumann.
For over 35 years she played a modern viola by Étienne Vatelot, her prize for winning the Maurice Vieux competition in Paris in 1983. She has occasionally borrowed a Baroque instrument (for example, for the recording of Berlioz's Harold en Italie with Roth and his period-instrument band Les Siècles, made in 2018), but usually she prefers to put gut strings on her modern viola. 'For the viola specifically, I believe that modern instruments can do a better job than old ones, which were just not built for what I'm doing today,' she says. The Vatelot has just been reworked, with a new bass-bar. 'It's a really gorgeous sound, much nicer than when I had it at the beginning. But it's becoming a little difficult for me – arthritis runs in my family; I don't have pain yet but over the last few years a few things, like double-stopping in first position, have become harder.'
She admires the instrument that French luthier Patrick Robin made for Schwamm: 'It's a super-small instrument but with a real viola sound. Patrick can influence things so that the sound quality doesn't depend on the size of the instrument.' Zimmermann has worked with Robin to find the qualities that she herself wants from a viola, and last year he completed a new instrument for her. 'I had been planning to play my Vatelot and get to know the Robin over time, but it sounded so beautiful that I played it at my next concert, the Rebecca Clarke Sonata at Kings Place in London,' says Zimmermann. 'It has been a big change because it's lighter – it's only three millimetres shorter but that makes a huge difference to me.'
While in Bonn she caught up with another of her students, now playing in the Bonn orchestra. 'She was in my first class in Saarbrücken in 1987, when I was younger even than some of the students,' she laughs. 'I wouldn't want to be my own student when I was young! I had this idea that people would think that I could do it, but that I couldn't explain it. I was looking for ways to verbalise ideas until my students said, "Shut up! Just take your viola and play, it's going to be much easier!"' Since 2002 she has been a professor at the Hanns Eisler School of Music in Berlin, and since 2017 has taught advanced students at the Kronberg Academy, near Frankfurt. 'I think I have become a better teacher over the last 30 years. I'm very happy that I'm still learning from each lesson and I go home every day with new knowledge.'
'I believe that modern violas can do a better job than old ones, which were just not built for what I'm doing today'
It's been 50 years since Zimmermann first picked up a viola – or rather a 1/16-size violin with gut strings ('three violin strings in the wrong place plus a viola C string cut down somewhere near the middle!' she describes). Her teacher at the local music school in Lahr, Germany, found ways of making learning and practising joyful, even for a seven-year-old, and she had fun playing trios with her two sisters. By the time she was 13, she was travelling to the Freiburg conservatoire to study with Ulrich Koch. At 15, after she had won a national competition, Koch sent her to Geneva to compete in her first international competition. Her final performance is on YouTube and it shows a grave, watchful young girl with bright eyes, braided hair and a demure, high-necked dress. In spite of her astonishingly mature technique and musical interpretation, she seems heartbreakingly young. Zimmermann remembers it as a happy occasion. 'When I see the video now, it's not me I see, it's a very young girl with no idea of what's to come. Aged 15, I really did not think of winning it, I just wanted to get through the first round. It was a beautiful experience.' She did win it, and back in Freiburg, Koch pressured her to enter the Paris competition in 1983, and she found it a much more stressful experience. 'I wanted to prove to myself, to my teacher, to the world, that I merited the Geneva prize. I won, but I did not enjoy the Paris competition.'
She went on to win the Budapest International Competition the following year, but the pressure of expectation increased, and those experiences have coloured her view of competitions to this day. 'I happen to be a strong, stubborn character and maybe my teacher knew that I would be OK with it, but I think it's a very risky game, particularly with a 15-year-old,' she says with hindsight. 'I'd never send one of my 15-year-old students to a competition. But if they say they'd like help in preparing a piece for a competition, I'll say, "OK, let's think about it and if it's your decision I'm going to support you."' She tells her students that they are free to say no, whether that's to competitions or to applying for the summer academies at glamorous festivals. 'I refuse to go to these festivals that are less about the music and more about mingling with wealthy people. I don't feel I belong there and I don't want to play in giant halls with bad acoustics. I'm setting an example to my students by showing you don't have to go there.'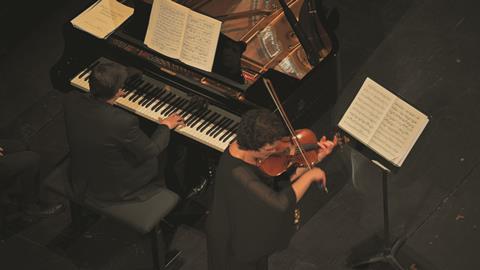 She tries to limit the amount of touring she does now, but she is looking forward to a series of concerts in America with the pianist Javier Perianes. Together they have recorded an album of Spanish and Latin music, Cantilena (out in April on Harmonia Mundi), and Zimmermann's versatile viola can be heard snaking round the tangos of Piazzolla and Albéniz, the canciones of Falla and Villa-Lobos's 'Ária'. 'It's all about song,' says Zimmermann. 'I sing every phrase before I play it. It forms my imagination, and then I can reproduce it on the instrument.' Of the 50-plus CDs on which she has featured, she's particularly proud of her first solo CD, on the maverick German label Myrios. Her revelatory performance of the first two Bach Cello Suites and three lesser-known suites for the viola by Reger won her an Echo Klassik prize in 2010. A decade on she is following up with Bach's Cello Suites nos.3 and 4, this time paired with six pieces from Kurtág's Signs, Games and Messages. This Myrios release in May coincides with the Ernst von Siemens Music Prize award ceremony, during which she'll perform with the Hamburg-based Ensemble Resonanz. They're playing Lachrymae by Britten, who was the first recipient of the prize when it was launched in 1974 and a promising viola player before he became a composer.
With the Beethoven festival now over, Zimmermann has new programming expertise to apply to future projects. One of those is to champion the quartets of Hindemith, whose complete viola works she recorded a few years ago. 'I don't understand why none of his big quartets are ever programmed,' she says. 'The last four in particular are fantastic pieces. Why are there no Hindemith-cycle concerts, when there are plenty of Shostakovich and Britten ones?' With typical generosity, Zimmermann plans to use her influence to persuade promoters and young ensembles to take up these great pieces. Who could say no to classical music's 'Nobel Prize' winner as she fights to keep the repertoire alive for future generations?
This article was published in the May 2020 130th Anniversary issue

The Strad marks its 130th anniversary with a look at the future of string playing and the violin industry. Explore all the articles in this issue.

More from this issue…