The Paddington Trio took first prize of £10,000 with its programme of Beethoven and Shostakovich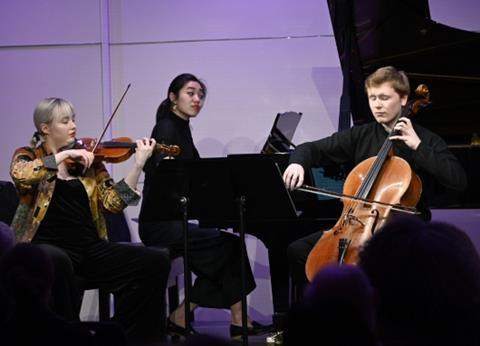 The Paddington Trio has secured first prize at the 70th Royal Overseas League strings and piano ensembles final.
The trio, comprised of pianist Stephanie Tang, violinist Tuulia Hero and cellist Patrick Moriarty, took the top prize over the Brompton Quartet and the Heathcliff Trio on Tuesday 15 March.
The Paddington Trio are currently students of the Advanced Chamber Music Programme at the Guildhall School of Music and Drama. After forming at Guildhall in 2020, the trio went on to win the Chamber Prize in the St James Chamber Music Competition that year and were finalists in the Ivan Sutton Award 2021.
The trio has most recently found international success at the Tallinn International Piano Chamber Music Competition, winning second prize as well as the special prize for Best Interpretation for an Estonian work.
The jury consisted of Carole Presland, Ciaran McCabe, Gavin Henderson CBE and Geoff Parkin.
The ROSL Annual Music Competition Section Finals continue to take place each Tuesday 7-9pm at Over-Seas House in London, with the finals for mixed ensembles and overseas ensembles to follow, culminating in the Gold Medal final on 7 July at Wigmore Hall.