Cellist passes directorship of artistic melting pot to trio of current musicians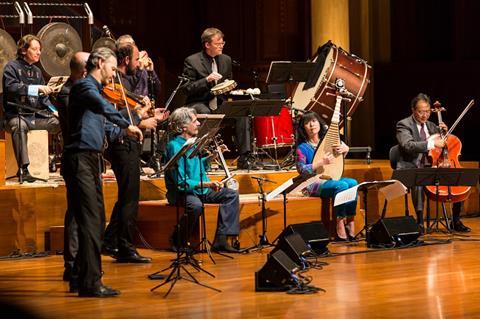 Yo-Yo Ma has announced that he is stepping down from the artistic directorship of Silkroad, previously known as the Silk Road Project, and the Silkroad Ensemble. Founded by Ma in 1998, the project has aimed to promote multicultural artistic collaboration and education.
In a statement released by the cellist, he said he is 'thrilled to hand over the artistic direction of Silkroad to Jeffrey Beecher, Nicholas Cords, and Shane Shanahan, three extraordinary colleagues who have taught me so much about collaboration, music, and friendship.'
Beecher (double bass), Cords (violin) and Shanahan (percussion) are long-term members of the Silkroad Ensemble.
'Silkroad turns twenty next year. Like a teenager approaching adulthood, we are exploring our purpose in the world. For us, this means thinking about how to share what we have learned to build a more hopeful future. One thing we have discovered is the joy and significance of working as an ensemble, and at this turning point, we are formalizing a new approach to leadership that celebrates that collaborative spirit,' Ma's statement said.
Stating his intention to maintain links to the organisation, Ma said: 'It is a journey that I will be privileged to share with them, and with all of you, as a cellist and a member of the Silkroad Ensemble.'
A statement from the three co-artistic directors said: 'At this moment of transition, we have an opportunity to reconsider how we reflect the communities in which we live and work. It is in this spirit that we announce a new commitment to diversity and inclusion across our board, staff, and ensemble, as well as among our collaborators and in our audiences. It is a commitment rooted in the belief that to ensure Silkroad's continued impact on the world's stages, in classrooms, and in our communities, we must engage an ever-broader coalition of voices, one that represents the many perspectives that shape our world.
'The imperative to reach across divisions is more urgent than ever, especially here at home. To meet this challenge, over the next year we will launch a series of US-based residencies, partnerships deeply informed by global perspective and guided by the passions of our growing collective of musicians, teaching artists, and cultural advocates. We look forward to developing artistic and learning programs that explore questions of difference, identity, and belonging, building new capacity for connection and understanding in the communities where we work.'