The semi-final rounds take place from Monday 16 May until Saturday 21 May, with contestants playing for the chance to win the top prize of €25,000 in the final round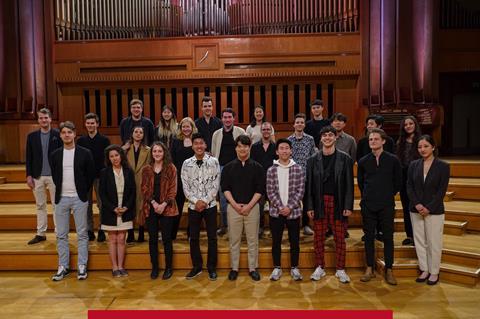 24 cellists will progress to the semi finals of the Queen Elisabeth Cello Competition in Brussels, whittled down from 66 contestants.
This week, from Monday 16 May until Saturday 21 May, the semi-finalists will perform in sessions at 3pm and 8pm each day. Each session will consist of two parts with four different semi-finalists performing.
The first half of each session will see two contestants each perform a Haydn Cello Concerto with Orchestre Royal de Chambre de Wallonie, conducted by Vahan Mardirossion. After a break, the other two contestants will perform their recitals, with piano accompaniment.
The jury will choose one of two recital programmes proposed by the candidate, each including works of the candidate's choice (containing a sonata for cello and piano) and the compulsory unpublished work written especially for this year's edition by Daan Janssens, Wie aus der Ferne. The choice of recital made by the jury is communicated to the candidate the day before his performance.
The chosen competitors are: Riana Anthony, James Baik, Yibai Chen, Bryan Cheng, Hayoung Choi, Jeremias Fliedl, Anouchka Hack, Constantin Heise, Stéphanie Huang, Woochan Jeong, Min Ji Kim, Marcel Johannes Kits, Keisuke Morita, Taeguk Mun, Samuel Niederhauser, Petar Pejcic, Erica Piccotti, Florian Pons, Ivan Sendetskiy, Oleksiy Shadrin, Anton Spronk, Simon Tetzlaff, Ella van Poucke, Sul Yoon.
More information about the semi-finalists can be found here.
The jury members for the semi final are Gilles Ledure (chairman), Myung-Wha Chung, Natalie Clein, Roel Dieltiens, Anne Gastinel, Marie Hallynck, Frans Helmerson, Anssi Karttunen, Antonio Meneses, Sharon Robinson and Jian Wang.
This year marks the competition's first cello edition since 2017, which was won by cellist Victor Julien-Laferrière. Contestants will have the opportunity to progress to the final round of the competition, with a top prize of €25,000 up for grabs.