Choi wins the top prize of €25,000, plus numerous concert opportunities in Belgium and abroad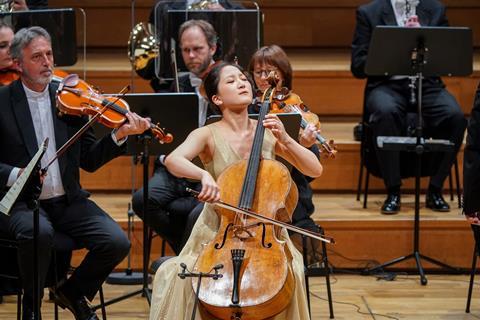 Following a week of peformances from twelve selected finalists, Korean cellist Hayoung Choi was named winner of the competition on Saturday 4 June. As the recipient of the International Queen Elisabeth Prize and the Queen Mathilde First Prize, Choi receives €25,000, plus numerous concert opportunites in Belgium and abroad.
Born in 1998, Choi is a former first prize winner of the 2011 Johannes Brahms competition and the 2018 Krzysztof Penderecki Cello Competition. She studied at the Korean National University of Arts, Purcell School for Young Musicians, Kronberg Academy and Berlin University of the Arts, counting Wolfgang Emanuel Schmidt, Frans Helmerson, Alexander Boyarsky, Myung-Wha Chung and Hyongwon Chang as her teachers.
She has performed as a soloist with Kremerata Baltica, the Camerata Salzburg, the Frankfurter Opern- und Museumsorchester, the Kraków Philharmonic Orchestra the Olsztyn Philharmonic Orchestra and the Suwon Philharmonic Orchestra.
Choi's final round performance on 4 June consisted of Lutosławski's Cello Concerto and the competition's compulsory piece 5 Albumblätter by Jörg Widmann. Finalists were accompanied by the Brussels Philharmonic, under the baton of Stéphane Denève.
Other prizes awarded are as follows:
Belgian Federal Government Prize: €20.000
Second Prize, awarded by the Belgian Science Policy
Yibai Chen (b.2001, China)
Count de Launoit Prize: €17.000
Third Prize: Marcel Johannes Kits (b.1995, Estonia)
Prize of the Governments of the Belgian Communities : €12,500
Fourth Prize, this year awarded by the Government of the Flemish-speaking Community
Oleksiy Shadrin (b.1993, Ukraine)
Brussels-Capital Region Prize: €10,000
Fifth Prize: Petar Pejčić (b.2002, Serbia)
City of Brussels Prize : €8000
Sixth Prize: Bryan Cheng (b.1997, Canada)
Fellow laureates Jeremias Fliedl, Stéphanie Huang, Woochan Jeong, Taeguk Mun, Samuel Niederhauser and Sul Yoon each received €4000. Stéphanie Huang also won the audience-chosen Prix Musiq3 and Canvas/Klara Prijs of €2500 each.
This year the jury was chaired by Gilles Ledure and comprised Gautier Capuçon, Myung-Wha Chung, Natalie Clein, Roel Dieltiens, Anne Gastinel, Marie Hallynck, Frans Helmerson, Anssi Karttunen, Mischa Maisky, Antonio Meneses, Sharon Robinson, Jian Wang and Sonia Wieder-Atherton.
2022 marks the second edition of the cello discipline for the Queen Elisabeth Competition. The 2017 competition was won by French cellist Victor Julien-Laferrière. 2023 will celebrate the voice discipline, while 2024 marks the next violin edition.