Quartetto di Cremona takes on full set of Strads previously played by the Hagen and Tokyo Quartets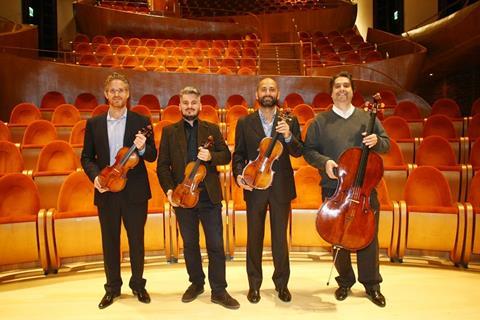 In a presentation yesterday at the Museo del Violino in Cremona, the Quartetto di Cremona took on the loan of the 'Paganini Quartet', four instruments by Stradivari previously played by the Paganini and Cleveland Quartets and more recently by the Tokyo and Hagen Quartets.
The instruments were known to have been treasured by Paganini in his lifetime.
The violins are the 1727 'Comte Cozio di Salabue' and 1680 'Desaint'; the viola, one of just 13 surviving by Stradivari, is the 'Mendelssohn' of 1731, the tone of which so inspired Paganini that he commissioned Berlioz to write Harold in Italy for it; and the cello is the 1736 'Ladenburg', thought to be the maker's last.
The instruments were separated after Paganini's death and only reassembled in the 1950s by dealer Emil Herrmann in New York. They were acquired by the Nippon Music Foundation in 1994 and were played by the Tokyo Quartet until it disbanded in 2013, and subsequently by the Hagen Quartet.
Simone Gramaglia, violist of the quartet, noted a particular poignancy to receiving the instruments in the city they were made, as well as further satisfying coincidences: 'Even if the name of our ensemble is "Quartetto di Cremona" we all are from Genova, hometown of Paganini.
'Moreover we are honorary citizens of Cremona, hometown of Stradivari.
'The opportunity then to perform on the "Paganini Quartet" acquires many deep meanings for us. We are thankful to the Nippon Music Foundation to give us what we consider a unique and great privilege in a musician's life.'
Their concert debut is on Friday, 29 September in Hamburg's Laeiszhalle