A student at Hannover University of Music, Drama and Media, 20-year-old Chinese violinist Qingzhu Weng claimed first prize at the final held on 28 November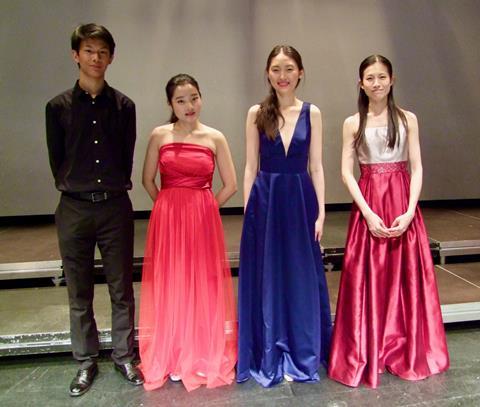 Prizes have been awarded at the 6th edition of the Mirecourt International Violin Competition, the final of which was held on 28 November.
First prize of €5000 was awarded to 20-year-old Qingzhu Weng from China with his performance of the Tchaikovsky Violin Concerto. In addition to first prize, he also won the audience prize, the Opéra national de Lorraine orchestra award, and best interpretation of the required contemporary piece Concert Sonate by Florentine Mulsant.
Additional prizes were awarded as follows:
Seconnd prize:Gawon Kim (South Korea)
Third prize: Victoria Wong (Australia)
Fourth prize : Yumiko Yumiba (Japan)
The jury consisted of Martin Beaver, Jan Repko, Dong-Suk Kang, Marianne Piketty, Marco Rizzi, Irina Muresanu, and Sergey Malov. Previous winners of the competition includeYuliia Van, Roman Kholmatov and Yoo Na Ha.
Read: Violinist Elias David Moncado wins Vladimir Spivakov International Violin Competition
Read: Joint 1st Prize Awarded at Mirecourt Violin Competition
Read: Yoo Na Ha wins Mirecourt International Violin Competition 2016