The 25-year-old South Korean violinist receives €5,000 in addition to the special prize for 'best personality'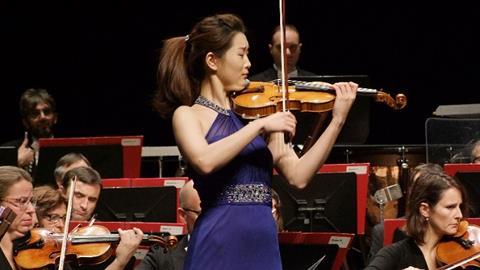 South Korean violinist Yoo Na Ha has been named the winner of the Fourth Mirecourt International Violin Competition, held last week at Rotonde de Thaon-Les-Vosges in France. The 25-year-old receives €5,000 in addition to special prizes for 'best personality' and for the 'best french sonata during the semi final'.
Second prize, worth €3,000, goes to 22-year-old Carla Inès Marrero Martinez from Spain, who also receives the orchestra prize; third prize, worth €1,000, goes to 24-year-old Eimi Wakui from Japan; and fourth prize, worth €500, is awarded to 15-year-old Hana Wakamatsu from Japan, who also receives the audience prize.
This year's jury was chaired by Ilya Grubert (Latvia) and included Friedemann Eichhorn (Germany), Dong-Suk Kang (Korea), Marianne Piketty (France) and Jan Repko (Netherlands).
Yoo Na Ha is a masters graduate of the Paris Conservatoire and a former winner of the Novosibirsk International Violin Competition.
The Mirecourt Violin Competition is held every two years, open to international artists aged 26 or younger, who compete in three live rounds, including a concerto final with Orchestre Symphonique et Lyrique de Nancy. No first prize was awarded at the 2014 contest, which instead gave joint second prize to Nathan Mierdl and Jian Ren.