Nine young violinists will compete next week for their share of more than $80,000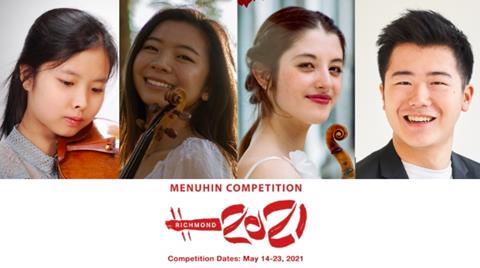 The Menuhin Competition has announced the names of the nine young violinists who will compete in the live-streamed finals on 21 and 22 May in Richmond, VA, US.
The five finalists in the junior division, all aged 14 or 15, are: Kento Hong (US); Boha Moon (South Korea); Hannah Wan Ching Tam (Hong Kong); Keila Wakao (US) and Edward Walton (Australia).
In the senior division, the four finalists are US violinists Hana Chang, 18, and Karisa Chiu, 21, Spanish 18-year-old María Dueñas and Simon Zhu, 20, from Germany.
With top prizes of $20,000 and $10,000 in the senior and junior divisions respectively, the competition offers a total prize fund of more than $80,000.
Read Menuhin Competition receives record number of applications
Watch Christian Li performs Vivaldi's Four Seasons at the Menuhin Competition
Read Menuhin Competition announces junior and senior semi-finalists
The current edition of the biennial competition was originally scheduled to take place last year but was postponed due to the Covid-19 pandemic. All rounds can be live-streamed free of charge here.
Chaired by Pamela Frank, the competition jury comprises Joji Hattori, Noah Bendix-Balgley, Aaron Dworkin, Alf Richard Kraggerud, Piers Lane, Valentina Peleggi, Soyoung Yoon and Angelo Xiang Yi.
The winners will be announced on 23 May at a gala performance of the competition's resident orchestra, the Richmond Symphony.